MembersPage/JorgenKarlsson
I live in Gothenburg, Sweden and I'm mostly working on the VEMS hardware. I have been with the project from the start and I've had lots of previous user experience with competitor systems.
MembersPage/JorgenKarlsson/TrackBMW
My project car is an Audi 80 Quattro -83 with a 4.2l A8 V8 engine producing in excess of 300hp. This car still has the Autronic SMC engine management and use an MSD DIS-4 for ignition power. It has been running on that since well before the VEMS project was started. It will be upgraded to VEMS when the VEMS solution offer enough advantages over the current configuration.
Two pictures of the car, last time I had it out of the garage. I have finally found bumpers for it now but have no pictures of it with them installed.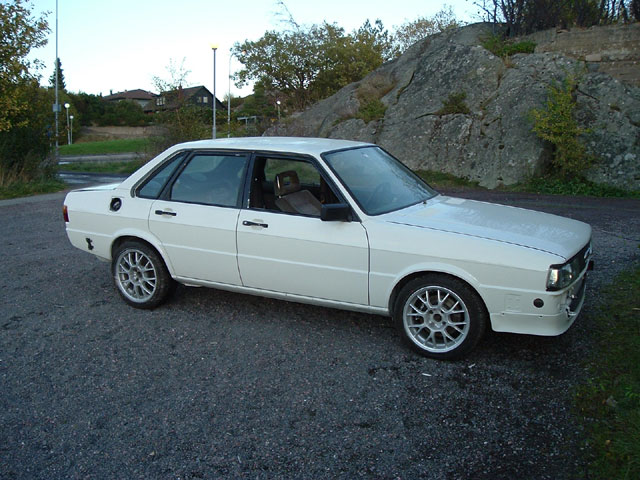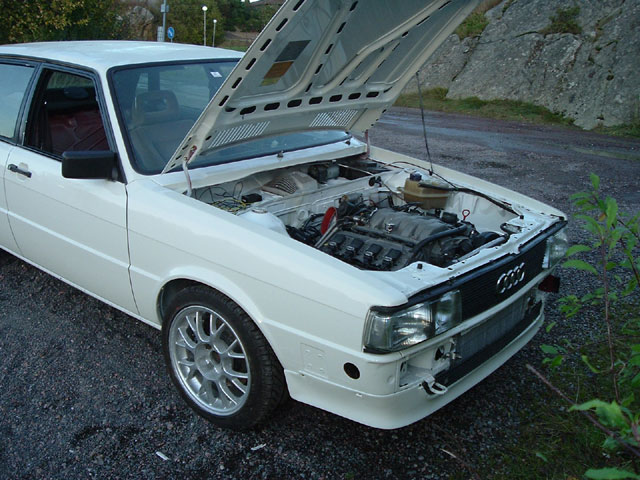 ---
The car has passed inspection and is now mostly used to go get food when other cars are in the workshop. Today (2007-02-23) it was swapped over to E85 fuel and the cold start properties was tested in -5C, no problems at all with the MSD DIS-4 even if the car only got a few minutes of tuning after filling it up with E85 fuel.
Q:Hi Jorgen,what mods were necceserry to run on E85 after pump gas?What lambda/(AFRs) are neededto run succesfully E85 (cruise,mid load,full load on turbo cars?)
Was very nice to meet you personally :)
Thank you//pnanassy
Peter, I still aim at lambda=0.88 on ethanol. I have no experience from E85 in turbo cars but I have heard from several people that the engine doesn't loose power on rich mixtures like it does on petrol. On petrol I'm used to find that the power loss is almost linear from 0.88 to 0.82 or so and that it plumets somewhere around 0.78 or so.
The stock fuelpump in this car is a bit small to supply enough fuel and I have found that the engine seem to loose more power on a lean mixture on E85 then it does on petrol. But this is only subjective for now, I will try to make some better measurements after fitting the 044.
I think that many people run into trouble with dirt in old fuel lines when they switch to ethanol. So replacing hoses with new clean ones is probably a good idea, getting high quality hoses makes sense at this time.
---
Other projects and customer cars:
MembersPage/JorgenKarlsson/TwentyFourX
MembersPage/JorgenKarlsson/AudiAAN
MembersPage/JorgenKarlsson/SimpleTrigger
MembersPage/JorgenKarlsson/MercedesCossy
MembersPage/JorgenKarlsson/PorscheTurbo
MembersPage/JorgenKarlsson/AudiStwo
MembersPage/JorgenKarlsson/RallyBMW
MembersPage/JorgenKarlsson/TurboSeven
MembersPage/JorgenKarlsson/TurboAlphaNCars
MembersPage/JorgenKarlsson/KickStartEngine
MembersPage/JorgenKarlsson/COOfourTesting
MembersPage/JorgenKarlsson/MiataNb
MembersPage/JorgenKarlsson/RoundMapTemp
MembersPage/JorgenKarlsson/WierdFuseBlow
MembersPage/JorgenKarlsson/InjectorsStuckOnPowerUp
MembersPage/JorgenKarlsson/IdleIgnitionTable
MembersPage/JorgenKarlsson/SafetyLightLimiter