MembersPage/Sprocket
All older information previously on this page can be found here MembersPage/Sprocket/OldorObsoliteInformation
All latest information shall follow, since this is the same project, just the latest progression.
---
Introduction
The Austin/ Morris/ British Leyland/ Rover legendary A Series engine which has its roots back in the 1950's where long stroke engines were favoured as a result of taxes imposed on cylinder size. Would anyone believe then, the A series engine would be so durable and yeild power figures as they do Today? Here's how it's done.
Brief overview of the Engine
A BMW K1100 (motorcycle) 16v Twin cam cylinder head engineered onto Rover A+ Series engine and transmission.
Choce of two OEM camshaft sets, the softer 256 duration cams selected.
Cam timing set for 115 inlet and 110 exhaust.
Engine is a 1996 onwards 1275cc MPi block over bored +0.5mm.
Accralite 18cc dish forged pistons, at 1293cc and compression 8.5:1.
Standard crankshaft, Nitrided.
Mitsubishi TD04HL-15T turbocharger from a SAAB 93/95.
Transmission is an uprated straight cut gearset with a Quaife ATB diff.
Similar combination already dyno'd at 268hp on 20Psi boost.
Hardware
Toyota Yaris COP Ignition coils 90919-02240
Bosch 'Green Giant' 0280155968 injectors
3bar or 3.5bar Pierburg rail integrated fuel pressure regulator (adapted from some sort of Audi V6)
Walbro 255 in tank fuel pump
Bosch 0 280 122 001 Throttle Position Sensor
Bosch 0 281 002 401 (038 906 051 C) MAT/MAP 3bar sensor
VR Primary trigger 36-4 (Rover Mini Mpi) (also Rover-K Lotus-Elise e324)
VR Secondary trigger OEM (late Rover Mini MPi engine block)
Bosch generic 'blue' CLT sensor
Stepper motor IAC Valve Taken from a Rover K Series VVC
Pierburg Boost solenoid
RTS Verto clutch. A modified standard unit assembled from two standard clutches.
Set up and config to follow
It's tight for space!
Not worked on the car much over the last couple of years, but 2017 will hopefully a fun and powerful one!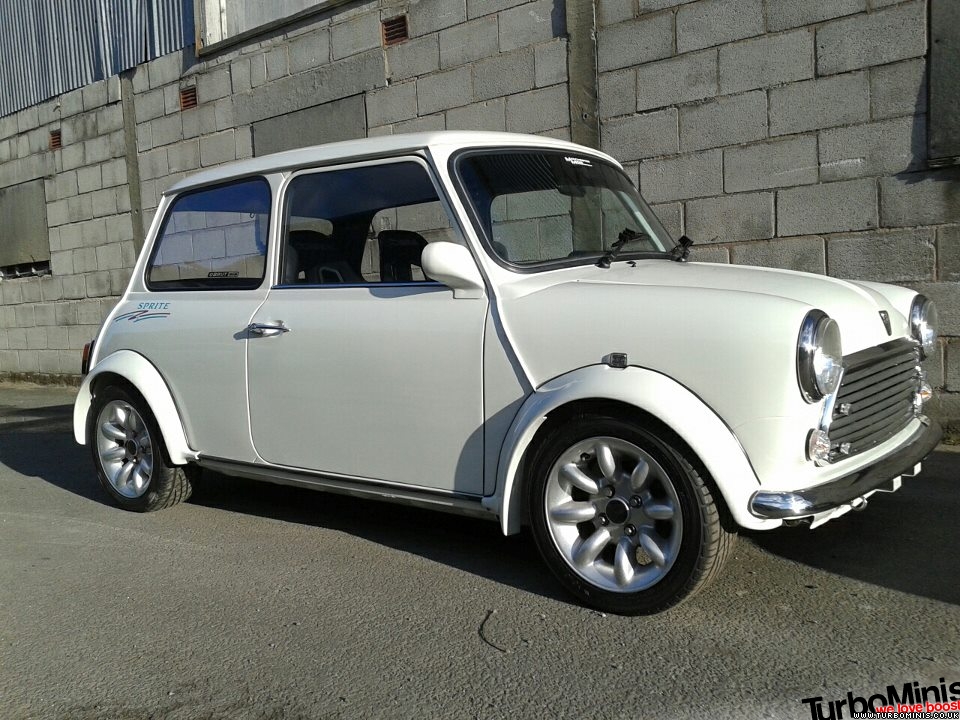 ---
MembersPage/Sprocket/CoilOnPlug Coil On Plug
MembersPage/Sprocket/LogicLevelOut Logic Outputs
MembersPage/Sprocket/EvaporativeEmissions Evaporative Emissions Purge Valve
MembersPage/Sprocket/BoostControl Boost Control
MembersPage/Sprocket/GPS GPS Logging
MembersPage/Sprocket/Bluetooth Bluetooth
MembersPage/Sprocket/NoisyTPS Noisy 5v+ supply (Fluttering MAP/TPS)
MembersPage/Sprocket/AnalogInputs Analog Inputs
MembersPage/Sprocket/WheelspeedTwo Wheelspeed 2 Input
MembersPage/Sprocket/MatMapSensor MAT MAP sensor
MembersPage/Sprocket/Ethanol E85
MembersPage/Sprocket/VemsTuneTweaks VemsTune Tips and Tricks
MembersPage/Sprocket/WideBandRiTarget Wideband Ri Target
MembersPage/Sprocket/ECUFusing Safe Fusing of the ECU
MembersPage/Sprocket/ErrorReports Error Reports