MembersPage/Kottan
Want to do a PnP? install on my Mazda 323 GT-R but also on some Group H Rallye Cars.
Hardware is 90% done.
Sotware is 20% done.
Questions:
TDC is 84° after rising edge of primary trigger. Ignition advance gets up to 55°. Now Coil charge time gets down to about 1,5ms on 6500rpm (what firmare + config?) but i want at least 3ms. Is there a way to start charging before the rising edge?

yes, easier with 1.0.x (either with dis ignition or distributer). Harder with 1.1.x firmware (in any case, if 1.1.x, try on bench first !)

Does anybody has working Tables on this engine? Because my Genboard does exactly the same as factory ECU but the engine doesn't run good.

maybe the problem is not fuel or ignadv but dwell ? Or idle settings ?

Is there a way to change the starting point of fuel injection?
Specs:
Engine:
4cyl
1800ccm
440cc Injecotors
Ignition:
Single Coil + Distributor
Ignition Module (using Logic-Level Output)
Trigger:
Sensors:
EMS:
Genboard 3.5
Firmware 1.1.50 (downgrading to 1.1.27 until engine runs perfect)
Progress:
Hardware:
Genboard installed in factory ECU case
installed additional 9pin connector for IAT, MAP and WBO2
MAP/AFM, IAT and NBO2/WBO2 swichtable
WBO2 and MAP sensor have been already installed in car for a ZEITRONIX WBO2 Display
built a trigger emulator with mega8 uC for testing
TODO:
install EGT
check if factory knock can be used with vems
intall wasted spark ignition coil
Software:
Measured Trigger with Scopemeter
Measured ignition timing of factory ECU
Measured injector pulse witdh of factory ecu
Engine starts and runs but very badly
TODO:
Get engine running stable with AFM
Get engine running with MAP sensor
Values for warmup and acceleration enrichment doesen't work good
Get WBO2 working
Get wasted spark ignition working
Boost control when using MAP Sensor
ALS/Launch Control
Information:
Trigger:
Same Trigger as on [MembersPage/Fero] but i measured angles with scopemeter and got this values: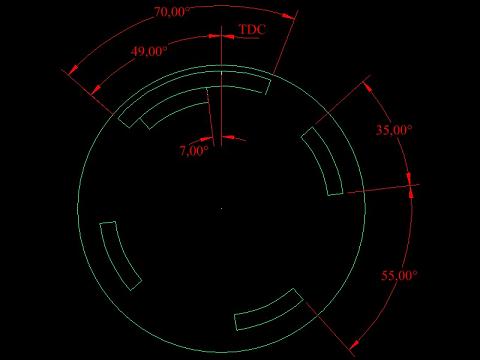 Ignition:
Factory ECU has no ignition table. timing is calculated of rpm and AFM voltage. Tested up to 30000rpm.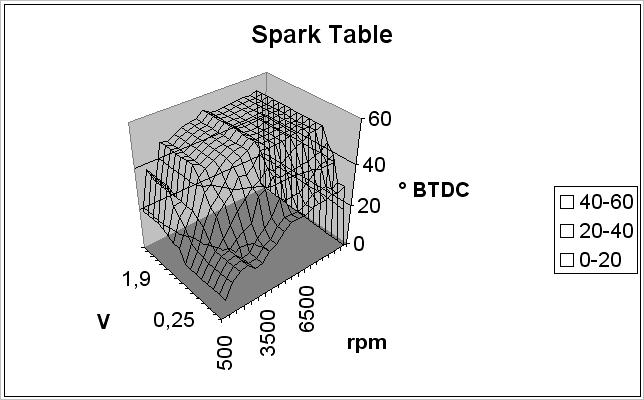 Fuel:
factory fuel table measured with scopemeter: