GenBoard/Manual/TestingInstallation
[[Manual: Basics.Install.Mechanic]]
Soldering steps reminder list.
Before mintest
big black barrell inductivity (1.5uH 5.4A or blue 3.3uH 8.8A)
quartz 16MHz
main fuse wire
0 Ohm resistor on the bottom (D45 for stepper?)
R154 under the atmega (factory populated since v3.3)
LCD supply capacitor (C89) 10uF (factory populated since v3.3)
Big Vbatt capacitor (C72) 10uF (min.25V) 1210 (factory populated since v3.3)
Big 18V 1.5kE18 troughole transient suppression diode (bottom of the board) (factory populated SMB on top since v3.3, needs checking ! )
connect the GND bridge (not applied since v3.3)
pinheaders for the ISP
do the firmware things and checks (bin/mintest.sh, bin/prog.pl)
Mintest possible at this point
...
supply voltages
supply current
LCD test requires special connector (since no header) or a bit of experience
Optional stuff below
5V1 protecting zener for trigger1 D14 (factory populated since v3.3)
5V1 protecting zener for trigger1 D27 (factory populated since v3.3)
configure trigger1 to VR (2 jumpers)
configure trigger2 to HALL (1 jumper)
trigger1 pullup resistor REMOVE (R55)
EC connectors
flyback diodes (factory populated since v3.3)
flyback airwire (EC36 pin23)
FETs
IGBT
additional brown GND5 airwire on bottom (EC36pin21,pin22)
additional brown GND5 airwire on top (EC36 pin5)
flyback testing: all inj. outputs toward the flyback rail
airwires to EC18
knock
RS232
MAP signal (if not onboard MAP)
hotmelt
Stepper
stepper chip
stepper capacitor (C75) 1210 (min.25V), 10uF
stepper Vbatt wire in the place of D45
knock
4 MHz
TPIC8101DW knock chip
for LCD that likes -3V contrast
R112=2k4 (factory populated since v3.3)
take out the 1k towards GND (not populated in factory since v3.3)
Final tests
many
pump- voltage
wbo2_pump_pw_zero
wbo2_nernstdc_target (0.45V between nernst and pump- when WBO2 activated with mde02 or RPM signal)
64-1 stim-out signal (mstbemsp03) from stepperA (0x36) output, and checking proper operation of all 8 injector and ignition channels with connected LEDs. Requires wasted-spark 16 cyl config with 64-1 wheel
---
A special board is used to test the outputs: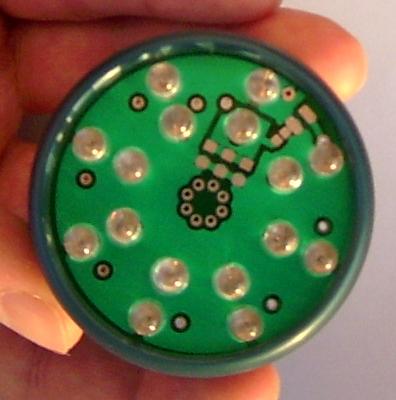 With a
64-1 stim-signal: mst7e msp02
tooth_wheel=3e
trigger_tooth=00
another_trigger_tooth=08
Note: "coil-type" input-trigger works as well, than the above wheel-parameters are not used, and mst3f msp24 command is used to drive the OutputTrigger
alternate=07
h[0]=01 02 04 08 10 20 40 80
ignchmax=07
h[2]=00 01 02 03 04 05 06 07
it's obvious from first glance if there is any irregularity due to:
firmware problem
HW problem (eg. 2 neighboring IGBT-s shorting because of clamping problem)
config problem (eg. bad trigger configuration or fuelcut)
Note that this does not substitute the flyback test.
The same board can be used for different tasks, for example:
upper (outer 4 + inner 4=total 8) RED as shiftlight
the other 8 (non-RED, eg. green, blue, yellow and white) LEDs for different status indication:

fuel-pump active
variable-intake actuator active
boost-solenoid active (makes boost-PID tuning easier)
warmup enrichment active (the output channel for this is not currently configurable)
finally integral-rail in various PID controllers (idle, boost, WBO2 pump, WBO2 heater, etc...) Note that these indications (although not too complex) are not implemented yet.
CEL (check engine light)
add your wish here
etc...
---
See also