MembersPage/Taz
Toyota Supra mk4 1994 2jz gte
Engine:
Stock 2jz bottom end with 1jzgte head.
Single turbo and custom intake manifold.
Stock 12 teeth cranktrigger has been modified to a 12-1 wheel(grinded away 1 teeth)
I don't use camtrigger(running wasted spark)
Crank trigger sensor HALL(Honeywell GT101)
VW Coil on plug ignition

What ignition plugs? You must use resistor type plugs.
Lucas LowZ injectors
VEMS 3.?(ordered 2013-03-25) ECU with Active LowZ flyback
CLT & IAT sensors are BMW stock(bosch)
Wiringharness custom(no shortcuts where made, done strictly by the book)
The car runs, but above 3000rpm the cranktrigger seems to see to many missing teeth.
It seems to be poorly mapped above 3000 rpm, it is hard to judge if what you're experiencing is simply a mis-fire from running too lean/rich. Enable +/- 20% EGO correction and do some auto-tuning. You can manually increase the cells above atmospheric and at higher rpm to get it done faster.
It's not even close to mapped yet. Just a map to start it up. As you can see the engine may be running a bit rich/lean here and there, but it shouldn't make any diffrence on the trigger(see picture below)
I was running on a VR at first with the exactly same results, but changed to HALL in order to get a stable trigger.
I also tried to change the wiring harness to VEMS 6cyl prebuilt harness with no change.
Tried diffrent firmware also from 1.1.91 up to 1.2.11. No success, all the same.
Update:
Disabled PWM of the injectors and added a resistor to every injector (configured in vemstune as highZ)
No success. Still trigger error above approx 3000rpm.
NEW Triggerlog: http://www.vems.hu/files/Taz/v3.3_u006858-2013-04-08-18.54.32.triggerlog
This triggerlog shows how the trigger looking godd at idle and a bit upwards the it's breaking upp(big gaps all over) as I rev the engine and then the trigger gets back to normal as the engine revs down again.
Picture of trigger error: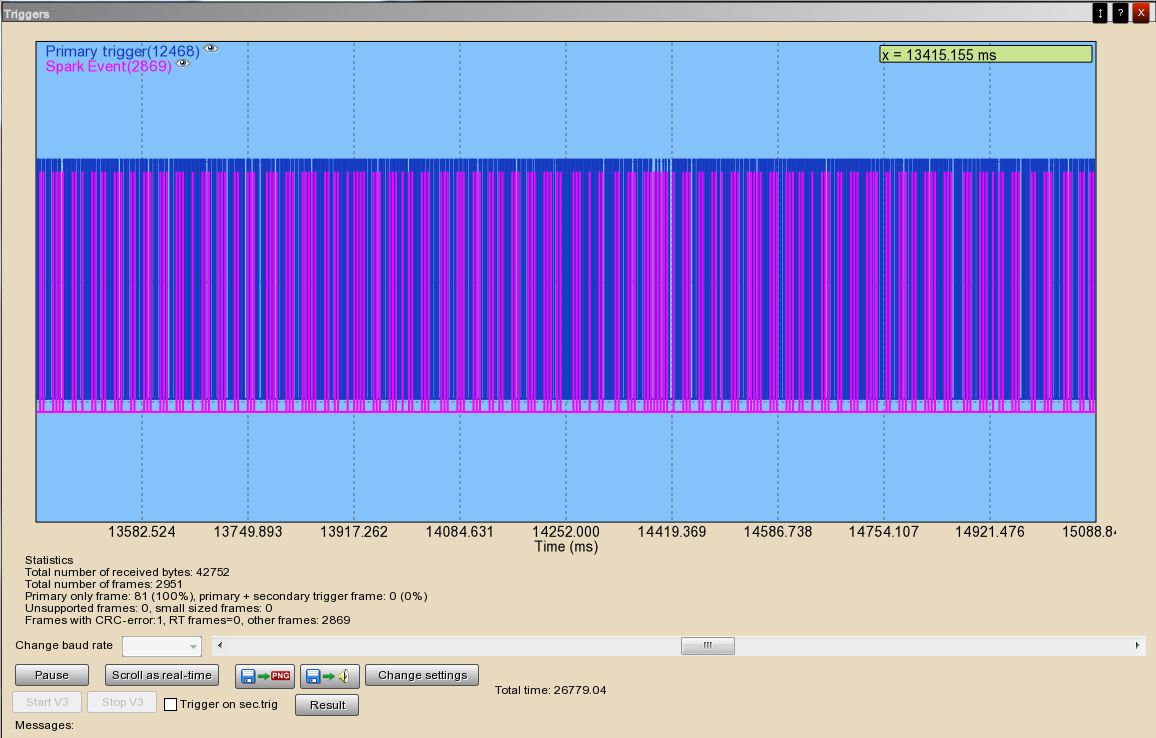 NEW Log:
Here are a diffrent log with the engine heated up and lambda working.
http://www.vems.hu/files/Taz/v3.3_u006858-2013.04.06-19.03.04.vemslog
No matter what change I do to the system, I still get exactly the same trigger error. No more, no less. I even changed the trigger wheel(still 12-1 but with more spacing between teeth)
Still exactly the same.
The VEMS dosn't say "trigger error" in the screen and are green the whole time, but still the triggerlog shows diffrent and you can here it aswell when you rev the car.
The serial port can not handle the amount of data that you are creating at those high revs, it will not show all teeth.

The rpm that will limit you depends on your trigger tooth frequency and serial port speed.
Check the speed in the preferences dialog, communication section.
Your problems is fuel-cut. It's like a rev limiter, not only on rpm, but in your case also on vacuum which is what is fooling you.

In your config you must disable overrun fuelcut, or simply lower the pressure point where it cuts.
Preferably use only a rpm based overrun fuelcut, both at once works but can get unpredictable results - as in your case.

I see what you mean! Can't belive that I missed it. Many thanx! I'm off to the garage to see of it works. I'll let you know! =)
Get a more basic tune done.

Insert a low pressure point at 20 kPa in the VE table to get better control of your idle. You have a config from an engine which pulls less vacuum than yours. Also recommend to use less advance at very high vacuum (low pressure) as well.
Tune only with very slow movement/changes to the throttle, acceleration enrichment and fuelcut will make it hard to understand the basic fueling requirements.
Try high gears and low rpm using auto-tune, slow sweeps low rpm until you hit lambda target with some confidence.
Engine tuned och dynoed on a dynapack. Had som issues with faulty turbos, other than that it went smooth to tune.
Precision 6266 and 1,6bar boost produced 615hk with no more than 700*C exahust temp. The car runns great.