MembersPage/MarcellGal/ThreeStageGasifier
Three-stage co-current gasifier separates the pyrolysis, combustion and gasification (reduction) steps. If all goes well, the result is low-tar gas (20-200 mg / Nm3).
Overview
Unlike the classical Imberts in the 1940's or FEMA (tar-makers), this type of reactor can output clean producer gas, but requires automatization with pressure sensors and high-temperature thermocouple sensors.
---
Operation modes
This laboratory gasifier has 4 modes of operation. 3 good, and 1 bad (which gives tarry gas, unavoidable during warmup).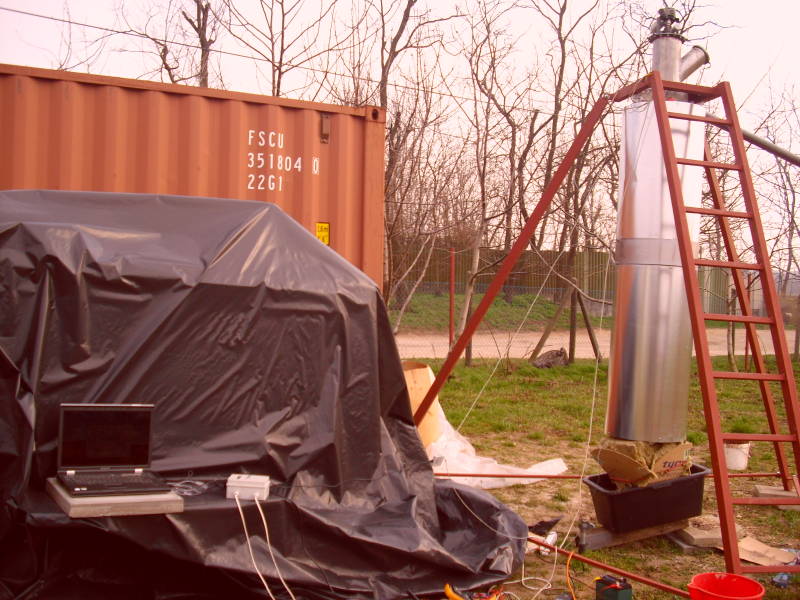 Notes:
The air must be preheated. Optimally min 400C or rather 500C. (using the exhaust heat and/or the producer gas heat in production).
this test-reactor is too small for straw, because straw bridges easily

on the good side, slagging was not a problem even when operating on 100% straw.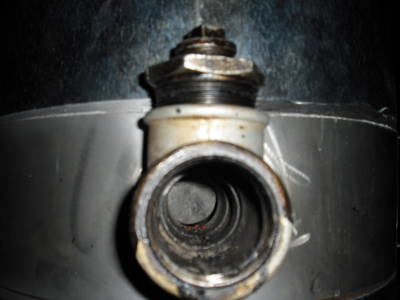 At this occasion (not always!), the middle-burner burns even with 15C air input.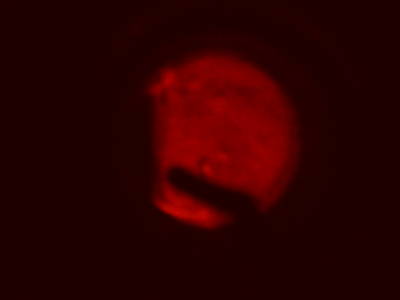 ---
Practical size
50-1000 kWe (200 - 3500 kWth) is a practical size for now (and multiple reactors can always run in parallel)

50 kWe appr 4-5 months (~ 2000 EUR / kWe inside Hungary)
250 kWe or bigger (~ 1800 EUR / kWe inside Hungary) on 6-8 months notice.

the smaller 4-20 kWe seems more problematic, eg. more prone to fuel-flow "bridging" problems.

We hope to deploy at least one 12 kWe test unit for evaluation on a friendly farm in 2011 summer, to collect fuel-bridging and fuel-tolerance experience.
We do not expect as problem-free operation (or near as good return-of-investment) as with the 50kWe and bigger units.

even smaller 2-4 kWe size is beyond aims for now, but not impossible in far-future
Q: what do you use for stoichiometric point with the gas mixture?
lambda=1.05 at peak power

lambda measured with Bosch LSU4 wideband oxygen sensor and [VEMS v3 controller] from exhaust gas O2 content
1.05 is used for for low CO. Lambda near 1.00 or 1.01 would raise CO ppm considerably.
Unlike natural gas, wood-gas (with low tar content) likes high compression without knocking. We use max 15 (compression ratio, max volume/min volume) but [TS] uses up to 19 (yes, nineteen) with near-stoich lambda.
we use lambdatarget=1.2 at low power. 1.2 to 1.25 definitely burns well, but with reduced peak power (we do not know the exact part-load efficiency numbers, efficiency difference between 1.05 and 1.2 lambda is small)
Nice project ( applaus :)
QUESTION:
We are researching the use of maize/wheat straw gasification cogenerators in farms and small-medium sized businesses. We're very interested in your project. Could you please contact us to discuss the possibilities of buying your system? jean.hupperets(that[a]sign)gmail.com.
Thanks in advance!
where are you located ?
electric power rating needed ?
fuel

fuel size
fuel moisture content (dry base)

if a naturally aspirated spark-ignition genset is available, all parameters are required

compression ratio
displacement, cyl arrangement
make, model
it is not guaranteed that it is feasible (and cuts project investment), but chances are good if naturally aspirated
if genset is turbocharged, we don't recommend using it (it is not impossible though if a very experienced local turbo-engine expert takes the challange and responsibility to install the safety pressure-relief valve(s) and tune it)
As of 2011-09 the 4-stage gasifier base system totals 2940 EUR /kW in EU (230/400V 50Hz) for 45kWe (predrier + reactor + filtering system + genset with accessories and automation)
it does not include the moving-floor fuel-container (or other suitable fuel-container, typically for 3-7 days max-load that is kWe rating * 1.2kg/kWhe * 72 hours) normally made in-place, but includes 2kW hydraulic supply for it.
electricity is required (4kW) to start the plant. Diesel or LPG genset is OK (but not included in the price).
minimum system is 30 kWe (slightly higher per kW cost than the 45 kW). Bigger plants costs less (per kW).
we currently do not have any plants in planning stage above 500kWe but bigger plants are feasible
wheat straw is planned for 2012 August

wheat straw has low ash-melting point that causes problems with many types of devices. According to our tests - in complience with Viking tests in Denmark - (ours with manual feed, as our automatic straw plug-feeder is not ready yet and only feasible for ID > 630mm reactor) these multi-stage gasifiers are not prone to slagging. The char-content prevents ash-fusion at the top of the reactor bed and when the char burns out, temps is lower than 850C and no channeling.

most of our experiments used woodchips as fuel, maize tests (4 cm pieces) are carried out 2011 October.

For ID>630mm reactors (90kWe) it is safe to assume that maize will work. ID=450 mm ... we don't know yet. Bridging is more likely to be a problem than ash-fusion.
We are completing the system (including CE paperwork) with experienced technology partners (who can make even an Imbert type reactor operate reliably, at least with wood-chips) and will make advertisement soon.