MembersPage/V
VEMS install on 90 degree V2 Honda engine - essentially an 8 cyl engine where only 2 cyls exist ectually
Firing order 360-90=270 and 360+90=450 degrees
assumption: ec36/34 (cyl1) fires first

cyl1 injection = ec36/ ... ?
please correct the data if necessary, and delete this line

than 270 crankdegrees later ec36/36 (cyl2) fires

cyl2 injection = ec36/ ... ?
The engine started (with factory trigger 12 on crank and 1 on cam, also called c014 or 24+1)
PLEASE UPLOAD that CONFIG.

it's unreasonable to start from anything else, so this is a requirement of further support (it was explicitely requested earlier, but 5+ and 15+ manhours of the support-crew and the insteller and weeks were wasted because this was lacking)
[vems 12 +cam inj- spark ok .vemscfg] misnamed file is not for the 12 cranktooth (24 per cycle) but 15 (matching the 16-1) tooth_wheel=0F
However, the engine did not start easily (it should, because this is a motorbike). Needs more investigation.
Also, at sudden transients trigger error appeared ( and loss of power).

so the installer changed cam-wheel to 16-1 (so that crank/cam race condition cannot happen). This engine has proper gear-driven camshaft anyway (not belt).
---
16-1 on cam - since this engine has a proper gear driven camshaft (not a sloppy belt), the camwheel without crankwheel is perfect.
[Settings] for 16-1 wheel on cam
tooth width=45 deg
next trigger tooth=2 (which gives 90 degree)
8 cyl (even if only 2 cylinders are actually used)

output 2 and 3 are actual outputs, 4,5,6, 4,5,6 are not actually connected (to anything)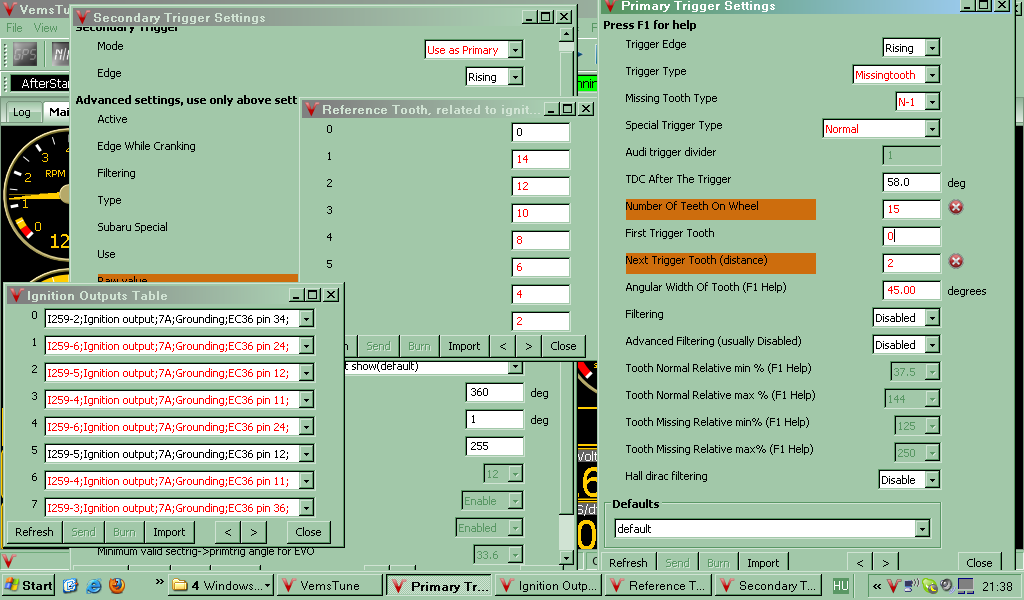 ---
Triggerlog needed - upload the triggerlog
with both rising and falling edge for HALL primary trigger
if both crank and camsync are HALL than this is 2*2=4 combinations
The
triggerlog is important
to see distance between primary trigger and secondary trigger. If they are too close, than sometimes the sectrig will come before, sometimes after the given primtrig pulse => the engine will start hard, misfire at certain revs or transients, or not work at all.
90 degree V2 overview
same as an 8cyl, just 6 cylinders are missing
honda vtr sp2.V90
ecu: VEMS v3 firmware 1.1.81 serial no:3410.
angle between cylinders is: 315 and 405 crankdeg (360-45, 360+45)
factory ignadv 15 crankdeg
intake valve opens 20 crankdeg BTDC
---
'''Trigger almost 16-1 type HALL jeladóval
While it commands sparks perfectly without sparkplugs, with sparks the RPM-changes are extreme (during cranking):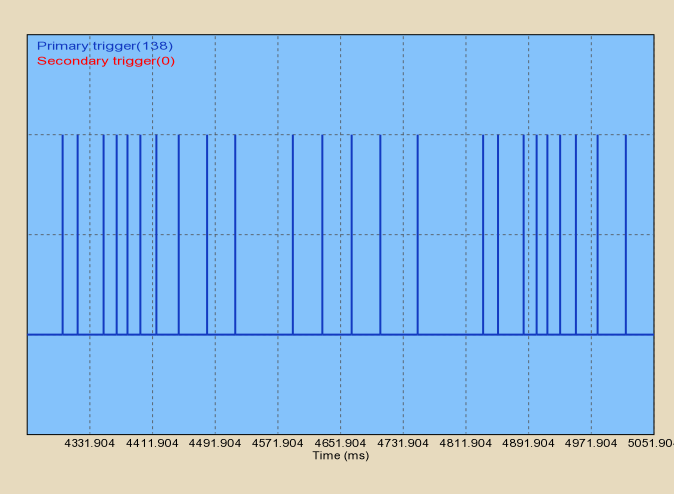 Please upload the triggerlog (captured with sparkplugs) so we can analyze properly ! From gimp measurements it seems:
66/38 = 1.7368
57/27 = 2.1111

so around 180-190 % threshold might be good.'
trigger timing: tdc after the trigger 121 deg.
'Pattern:
??? degrees (15 is best, 10-20 can be acceptable)
We want to help by verifying this, that is why the triggerlog is required
we assume 15 crankdeg distance here
cyl2 TDC cyl_1

assumed 450 deg after cyl1 TDC, assuming 429 deg after crankpulse0 (429=450-15-6)
if in actuality 270
Proposed config
toothwidth=45 degree

because this is crankdegree (22.5deg is WRONG)

next trigger tooth=2
trigger tooth =0 (which is 0 deg.)

Change it to 1 if the "TDC after trigger" is more than 127, and subtract 45 from "TDC after the trigger" value

TDC after the trigger: 121deg
with above settings, TDC points come 69 + N *90 deg after crankpulse0

the existing cylinder cyl2 is at 69 + 4*90 (=429)
the existing cylinder cyl1 is at 69 + 7*90 (=699)
http://www.vems.hu/files/MembersPage/HondaV2/v3.3_u001212-A-2011.03.16-17.54.52.vems
Ki kell javítani mert nem egyértelmű ! Egy adott ponthoz (általában cyl1 TDC) kell mérni minden eseményt/pulzust főtengely-fokban !
az 1 henger alsó holtpontjánál ad jelet illetve a 2es henger alsó holtpontjánál is.
mert a cam sync jeladón két jel van 1 tüske és vele szemben (???) 2 tüske.
1. tüske: 90 BTDC cyl1
csak hall felül
---
injektorok:
hengerekként 2 injektor van a fojto szelep után egymással szemben ezeket párhuzamosan kötöttem mert Ákos azt mondta elbírja (magas inpedenciás inj)kapcsolt plusz és negatív
EC36/7 cyl 1
EC36/19 cyl 2
---
Sensors
Bekötve a wbo2 és kalibrálva
tps kalibrálva
víz és a levego is kész
egt kalibrálva
map kalibrálva
--
---
Actuators
Coolant fan now working start - connected s259 5 inverted

for this special "8 cylinder" (with 6 cyl missing) we recommend to use a stepper output (or any non-injector output) for the coolant relay.
If we want to time injection without -45 +45 degree cheating, we want to configure all 8 channels for inj - therefore no injector outputs available for other purpose
---
ALS
majd még szeretnénk ALS is 10fokos fojtóval max 5500 rpm ig..
---
Ignition outputs maximum 185rpm inditózás közben. Ha a gyertyák benne vannak a motorba akkor trigger erort ir (nincs szikra se)
Passive or active ignition transformers ?
ignition now connecting ecu36 pin36 pin34 (ign/2 and ign/3)

0 and 1 earlier was unfortunate choice for ignout:
for passive transformers we recommend EC36/34 and EC36/36 (ignchannel 2 and 3) because those are also available in the 2-IGBT version ! See [ignout] (also referred from [assembled controller in webshop] )
Our proposed initial config assumes ignchannel 2 (cyl2) and 3 (cyl1) ign outputs are used - but easy to change if you know what you are doing
for active coils ignchannel 4 and 5 makes sense so available even in the 6 IGBT version
with these recommendations the widest set of controllers (any 2-6 IGBT) ECU will be suitable
---
Test config
contact 06 30 276 75 75.
tölstd ki a helyén a kérdéseket (ne az aljára irj, hanem mindent abba a részbe ahova tartozik)