MembersPage/SuzukiValveControl
Suzuki Valve control
Test project for intake valve camshaft angle control. 1.3 / 1.6 Liter 4cyl engine used in Suzuki Swift, Ignis and other cars. Perhaps same trigger is used in other engines (Toyota ?) as well.
Fero uploaded the documents [here]
Important information:
PWM signal for valve-adjust solenoid should be around 240 Hz

higher duty advances the intake cam (as expected)

Fero did some testing with the intake-control-hydraulic system, and drift was almost zero at 45% duty. But it never stabilizes, so feedback is essential.
the camsync CMP signal is at the flywheel end of the cylinder head, HALL type with 3 pin connector

Ground - measure in orig harness
mid-pin sectrig HALL signal
third pin (closest to sensor body): +5V HALL-supply voltage
Trigger PATTERN
Primary trigger is same 36-2-2-2 as InputTrigger/SubaruThirtySixMinusTwoMinusTwoMinusTwo (but HALL)
however, sectrig is different from the subaru 36-2-2-2-. A bit complex, and somewhat pain to implement in a generic firmware (not a specific just to this engine), but it's at least smarter then the subaru

unlike the subaru, the suzuki cam seems to support proper running (timing from less than 140 crankdegrees) with camsync only (obviously without VVTI, of course: with intake cam fully retarded)
Secondary trigger
Tooth timing
Triggering pulse is always at the fourth pulse after the single missing tooth if only one camsync received from the last double missing tooth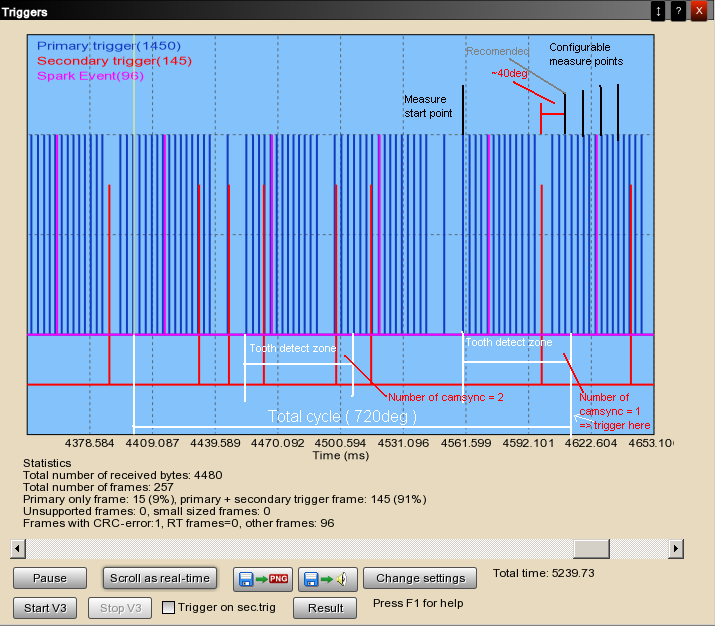 VVT measurement
VVT time measured from the triggering camsync pulse ( detailed in Tooth timing above)
To the configured (Base setup menu / Secondary trigger settings dialog/ VVTI measure pulse) measure pulse after the single missing
---
test-setup at Budapest University of Technology (and "Economics")
http://www.bme.hu/ the engine + shaft dyno located in the Jendrassik lab, 50m from the university's nuclear reactor.
It is a sponsored ECU v3.3 serialnr 2012
was installed around 2008, running with 1.1.27

guys installed a 18-1 crankwheel instead of using the factory (VR?) sensor. Camsync was not used

Marcell upgraded firmware (actually to 1.1.89) so that sectrig log can be captured

vemstune was very helpful with the upgrade, offered the auto-saved 1.1.27 config and upgraded to 1.1.89. Validate warned about the values it could not upgrade (eg. tooth_width2 was unused in 1.1.27). Setting tooth width=20 degrees fixed the warning
We'll test VVTI with this 18-1 primary trigger first.
TODO: upload scope data and triggerlogs.