MembersPage/RichardBarrington/RangeRoverClassic
The current project is a 1982 Range Rover, with a rebuilt bored and stroked 301 Rover V8. It's fitted with a modified P76 crank and ACL Falcon-spec pistons. It runs ARP studs and bolts on the heads, mains, and rods, and uses quality stainless fasteners on the less critical external components. The cam is a Piper 270/110i with JP timing gear, along with a custom crank scraper from Ishihara-Johnson Crank Scrapers, and J&E Engineering oil pump valve. The intake is a very unrestrictive 3" K&N and custom alloy air tube, and currently runs 227cc Ford Racing / Denso injectors fed through a 3.5 bar Porsche regulator from a in-tank pump and retro-fitted plastic fuel tank. Ignition uses the stock distibutor and a Jacobs Electronics Omni. Cooling is via a Davies Craig EWP and a Summit branded S-blade electric fan controlled by the Genboard ECU. The exhaust duties are currently handled by a set of Hedman headers into a 3" single system with cat. I decided to skip the turbo installation.
As well as a big motor, it's also fitted with upgraded slotted/vented DBA brakes, Bilstein shocks, Polybushes, and oversized Whiteline swaybars. Power is delivered though a B&M kitted and cooled Chrysler TF-A727 and the factory full-time 4WD setup. Strangely enough, a Lokar kickdown cable is an almost bolt-on mod with the 3.9 throttle body. Interior lighting is now via high intensity white LED.
The audio is handled by Infinity Reference splits and a Kenwood CD deck. The plan is to upgrade this to Blaupunkt Bremen MP74 CD/MP3, Blaupunkt CDC-A 03 changer, 2 sets of 6.5" Infinity Kappa splits for the front and rear doors, Infinity BassLink powered sub, and a Coustic 1200Q 4 channel amp. This suggests I should fit an alarm sometime soon...
The real question is how much bling can I afford?
It *does* need new street wheels! Sadly, I've checked out Boyds Wheels and a custom set of 18" [Blaster] wheels is looking good. Alternatively, Zinik 20" [Z14 Ferara] can be drilled to fit. I wanted the [Z17 Caroza], but 5x6.5 stud pattern is hard to fit). Tyres are likely to be Yokohama. Need to tint the windows too.
I'd like to fit Detroit Trutrac diffs so it doesn't get embarrasingly stuck at the wrong moment.
Darn. While making a bracket to mount the ECU, I noticed a melted wire... and it goes from one end of the loom to the other. Combined with the flakey lighting and assorted gremlins from previous owners and The Lord of Darkness himself, it's time to buy a Painless Wiring kit from Summit and reinstall the electrical system.
I've stripped most of the wiring out now, just waiting on the Painless weather-proof loom to arrive.
---
Here's some pics of the old truck...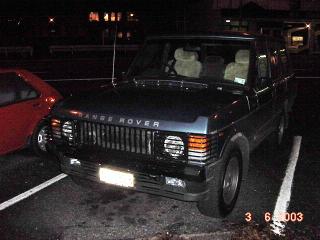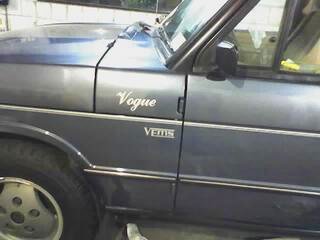 (no, the oil underneath isn't mine!)
---
MembersPage/RichardBarrington/RangeRoverClassic/Wiring
MembersPage/RichardBarrington/RangeRoverClassic/Config
---
Back to MembersPage/RichardBarrington