MembersPage/ReinisAndersons/Ecstasy
BMW E36 328T
Engine: 6 cylinder, 24V, inline-6
JE pistons CR 8.0
Eagle rods
1600cc injectors (30V flyback)
Holset HX50 turbocharger
E85 power :)
VEMS v3.3 without CAMSync
---
2008-07-28
Problem with low map VE bins
I have problem with low VE map bins. There are strange values needed (higher at 30kpa than at 50kpa) and the engine is runing rich, but if I try to lower them it will start detonate and wideband shows extreamly lean. Maybe this is normal with Ethanol?
If I slowly rev the engine @ ~30kpa, lambda shows 1.02, bet when I stop reving and hold stable rpms (e.g. 5000rpm) it starts to run rich and lambda goes to 0.72... I have almost perfect idle at 900rpm. Also my warmup table looks strange as it likes less fuel at warmup. Could it be mehanical isue like too retarded exhaust camshaft or pulsations in fuel rail? I will bee thankfull for any idea that could solve the problem!
I have tuned AUDI with the same injectors (846 bosch) and same settings on RON98 and had no problems.
These injectors are very difficult at short pulse-widths. Once you get to 1.5 ms (what you have at idle) they are not linear anymore, shorter pulsewidths can mean more fuel instead of less which makes the fuel calculation inaccurate. I'm not certain that this sloppiness is true for all "1600 cc/min" injectors, at least those that I've come across.
I have determined that once you get above a volume per cylinder above 0.6 liters you have no real issues. The overall efficiency of the engine also plays a big role, cams, valves per cylinder and such things.
In your case you are at 2.8/6=0.47 liters which is in the trouble zone, especially given that it is a modern efficient 4 valve/cyl engine. You have to accept some idle and low load problems with these injectors. I have seen some low-Z 1200 cc/min injectors with a different design that would be interesting to test, I'm pretty sure they would do better (www.racetronix.com).
Regards / Mattias
-- Have you tried to play with injector opening characteristics? Or play around with another set (smaller?) of injectors. Very suspectible.
Thanks for reply! Yes I have played with injector open rumpup time. Starting from 600us till 1400us. 1300us works best, but the problem is still there. Durning break-in i was using 330cc injectors without problems(the fuel was RON98 instead of ethanol). I have cheap ebay fuel pressure regulator and just noticed that I can feel with hand that it is pulsing, but built-in gauge shows stable 3.5Bar. Maybe unstable fuel pressure? Should i buy unit like Aeromotive?
-- I'm fine with stock BMW fuel regulators. Looking into your log your EGTs seems high for idle-time and free-revving. Probably retarded exhaust cam? On the other hand 28-30kpa is very strong vacuum for a CR
8:1
engine, I've never seen such low values -but probably that's OK.
New Log !- www.bmwpower.lv/bin/0Jagr.xls
Why it is starting to run rich at 28kPa, but is lean at 30kPa?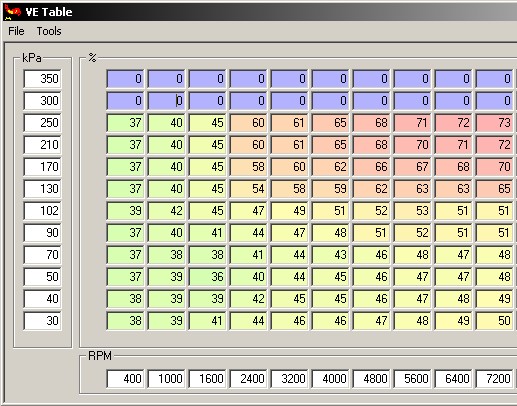 http://www.bmwpower.lv/bin/3turboE85.msq
Firmware: 1.1.18