MembersPage/Protaz
BMW M50 Non-vanos (installed in 2011)
- M50B25 stock bottom (BMW Inline 6 cyl 2.5 lit 24 valve)
- Cooperring headgasket w/ ARP studs
Do you know engine compression?
- Puls-split ex. manifold
- TB70-03 turbo from Turbobanditen
- HKS 40mm Wastegate
- 3" downpipe and ex-system. 100 cell racecat + 1 muffler.
- M20 Flywheel + 618 pressureplate + 6-p Sinter
- FmIC 600x300x75mm
- Greddy 40mm BOV
- 980cc High Z Siemens Injectors
- Malpasi fuel pressure regulator
- Dual Walbro intank fuelpumps 255Lph
- Built in ignition IGBT of the Genboard 3.6 and the stock coils of the M50B25 (are these 6 COPs ?) in a wasted spark config
- Firmware 1.1.95
- VEMS Genboard 3.6, Custom adapter-harness from Vems-->Motronic 88. (No wiring needed, just remove your motronic/siemens ECU and mount the harness and Vems ECU) Motronic Connector came from an old M50 ECU.
- BMW M50 Non-vanos 60-2 VR stock trigger.
- Cam trigger not used or needed for a wasted spark setup. Sounds like not 3x2 transformer (real wasted spark, but ... ) Are you using igndualout ? Do the 6 COPs last ? Needed to replace any in 5 years ?
- All other sensors also stock BMW M50.
- Stock air mass meter removed
- I did the Config setup myself. Tuned to about 240kpa now with good economics on light load(also running on closedloop lambda) and good performance on high load.
Tuned on a Dynapack dyno with 611whp and 746Nm.
nice job, congratulations
You'll find an early version, NOT FULLY TUNED, config file here: http://www.vems.hu/files/ProTaz/M50B25_nonvanos_dual_intakecams_K29_980cc_wastedspark.vemscfg
---
A picture of the adapter-harness not entirely completed: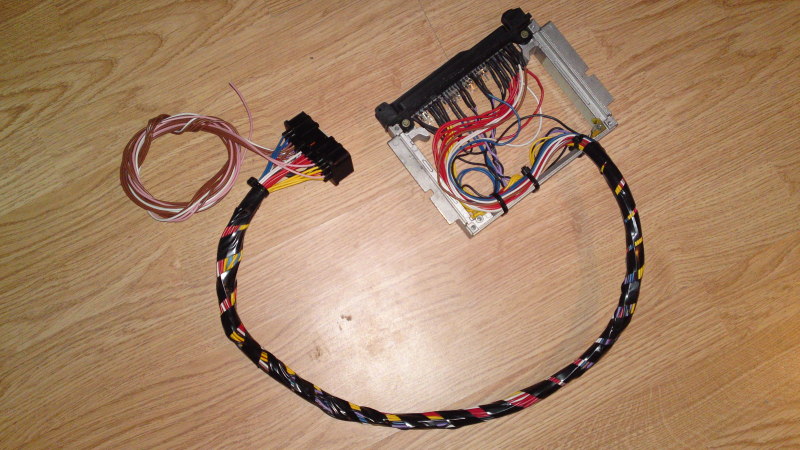 PIN numbers for the adapter can be provided if wanted.
Is primary trigger EC36/27 connected to crankshaft VR+ mot88/pin67, right ? (Not mot88/pin68 ?)