MembersPage/PoweredBMWSfiftyFour
BMW S54 6 cyl, firing order: 15 36 24
First step for S54 effectively completed:
Capture a triggerlog and vemscfg of engine cranking 8-10 seconds without IGN and INJ fuse with all three triggers enabled in the following configuration:
primary trigger = rising
sec trigger = falling
third trigger = falling edge
At latest when all 3 triggers look good in InputTrigger/TriggerLog (captured the above method), then
in recent VemsTune, preferences / update ini files
primary trigger dialog, bottom => S54 configlet (after or instead the generic BMW 6cyl config)

using values specific for S54 can eliminate unnecessary installation "experiments" caused by bypassing important steps and using generic 6cyl settings (that work for many 6 cyl BMWs, and interestingly, unfortunately, also started this engine with sectrig and thirdtrig swapped - though with continuous trigger error indication and obviously without proper camshaft position measurements; With the proper trigger wiring: good, S54 specific config settings needed to start the engine !).
---
Sectrig and thirdtrig are finally connected properly; with ECU that was requested with trigger and outputs for S54 => engine runs fine
no trigger errors. Primtrig + sectrig works and configured;

also, triggerlog "v3.3_u009469-2014-12-09-08.12.17.triggerlog" looks perfect

cam measurement good (sectrig and third trig also)

Camshaft position seems to be measured without glitches.
but camshafts don't actually move (other than minor because of belt)
Cam actuator (wiring) still needs some review + docs + work:
Sectrig currently around 29.5 degrees, which is less than inlet target 46.4 (constant flat map)

=> so p259 4 OutputA? activated (p259 4,5 configured), still does NOT result in advancing the (exhaust ?)
camshaft => wiring should be checked (maybe direction swapped, or swapped between 2 cams, or swapped both ways)

Similarly: third trig currently around 47.8 degrees, which is more than exhaust target 29.53 (also flat map), so p259 7 OutputB? active (p259 6,7 configured)

but the third trig cam (intake) does not move
See http://vems.hu/vt/help/v3/v3_camshaft_angle_control.html Dual Vanos Output section
Keep in mind third trig = intake cam, sec trig = exhaust cam
Best practise to avoid swapped cams, is to first connect only one cam's solenoids.
---
The correct 8-1 is routed to sectrig : "v3.3_u008907-2014-11-05-17.59.39.triggerlog" seems to have correct wiring of sectrig and third trigger
But is not captured without IGN and INJ fuse (as requested) so hard to review, seems to attempt fire up than slow down again.
2014-11-05-18.06 is wrong again: sectrig 6 evenly spaced pulses, go back to 17.59 routing.
It turned out, that engine started with the wrong wiring (and even ran with perfect inj and ign upto redline, just ECU showed trigger errors) (swapped sectrig/third trig), and engine didn't start with the good wiring

(because config applied was from other BMW, not for S54)
... that's why in the first step, before triggerlog is verified, one shouldn't attempt to start engine. Circumstance confused installer big time.

After setting advanced sectrig settings (eg. sectrig ignore, max prim per sec) engine will start with the good wiring of course, but that is next step.
---
VERY important: S54 needs 4 PFET outputs (high-side drivers) for the vanos actuators. Any other setup is not supported (driving vanos actuators directly from p259 outputs not supported, and might damage the p259 and cause other indirect problems).
it's among the examples [product order page] : "BMW S54 dual-VANOS engine: VR, HALL, HALL + 4 * PFET high-side switches for the 4 hydraulic cam-actuator solenoids "
despite this, v3/9319 has no 4-PFETs installed.
v3/9319 (the ECU used according to some logs) is originally VR,HALL

3d trigger is homemade (apparently no filter capacitor), so converted to VR,HALL,HALL

v3/8907 (another ECU, some logs captured with that): also not ordered with BMW S54 inputs and outputs.
According to our knowledge, for S54, it's enough to just
the S54 order comment
set up measurement
and verify that the configuration+wiring makes the desired cam (this was verified, but please take note of wiringbelow)

move into the desired direction (this wasn't verified, and very likely to be reversed)
messing up either will cause the control to not work.

according to:
[VT help]
We'll see if this engine happens to show something tricky.
1.2.28 firmware recommended
---
Trigger: VR, HALL, HALL
primary trigger EC36/pin27 VR 60-2
sectrig HALL EC36/pin13: missing 8-1 (exhaust cam)

pin1: +12V red
pin2: signal green
pin3: GND, black

thirdtrig HALL: 6 evenly spaced tooth (intake cam)

EC36/pin3 nonstandard, home-made third trigger
Good S54 triggerlog, (captured from another engine, with VEMS trigger inputs properly connected):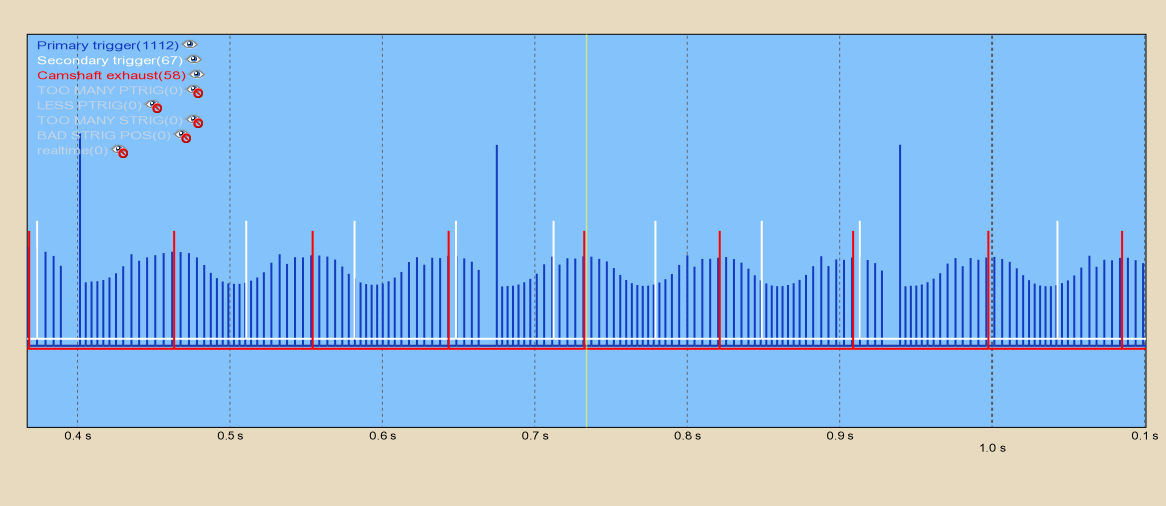 Clearly seen, that
the 8-1 missing tooth signal (needed for differentiation of every other crankrot) properly routed to sectrig (white on this pic), and the evenly spaced signal to third trig (as it should). No noise pulses.
Also seen that TDC is appr 13 tooth, that is 78 crankdegrees after tooth0. So first trigger tooth=0 is good, but first trigger tooth=4 also good, when Engine timing is verified with strobe => "TDC after the trigger" is set 24 degree less (~54 deg; + first trigger tooth =4 is 24 deg = same total value).
sectrig ignore after primary tooth=12 might work. In some vemscfg=FF : not good for this engine. 11 could also work (between the desired sectrig pulse, and the neglected sectrig pulse, regardless of actual cam position).

Dave says correct settings are: sectrig ignore = 16, max prim per sec = 25 (works for the entire cam sweep range): but lets hold off on that for now until the first step is completed
Cam sensor pinout:
pin1: +12V
pin2: signal
pin3: GND
---
Cam actuators
manually actuated outputs actuate the cam, but
not configured properly
---
Cam actuator wiring
Exhaust cam wiring, sectrig
EC36/pin34 ignch2 advance yellow - white/green
EC36/... (not specified, it must be ignch3 = EC36/pin36 ??) retard green - white/black
Intake cam wiring, third trig
EC36/pin35 ignch0 advance brown - grey/brown
EC36/pin33 ignch1 retard black - grey/blue
Overview: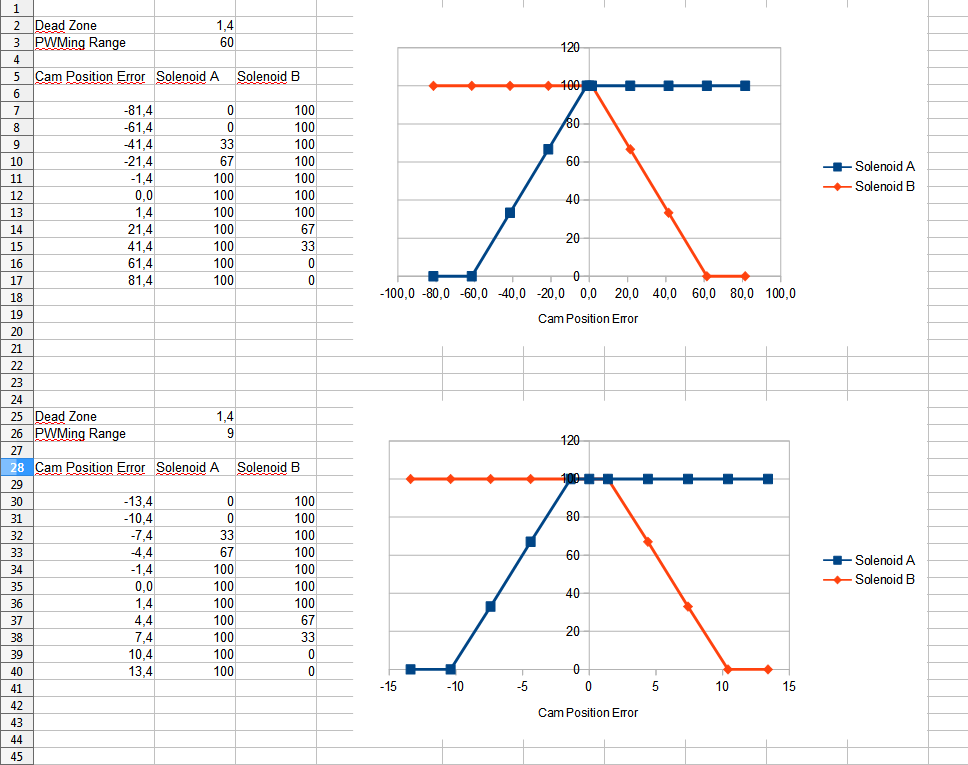 ---
Ign outputs. Copied exactly from paper... not clear at all. Can you reformat ?
0-1 EC36/pin 33, 34, 35, 36
2-3
Still not clear: (pin11 is on EC36, not EC18; please confirm).
Pin 33-36 is obviously on EC36, but stepper is on EC18... weird...
cyl1 pin35 stepperA
cyl5 pin36 stepperD
cyl3 pin11 11 (EC36 / ?)
cyl6 pin33 stepperB
cyl2 pin34 stepperC
cyl4 pin12 12 (EC36 / ?)
---
Trigger errors
Engine is running well, but trigger error is lit continuously...
sectrig position measurement ?

position change not seen even when manually actuated (and cam obviously moving)
third trig measurement ?

position change not seen even when manually actuated (and cam obviously moving)
---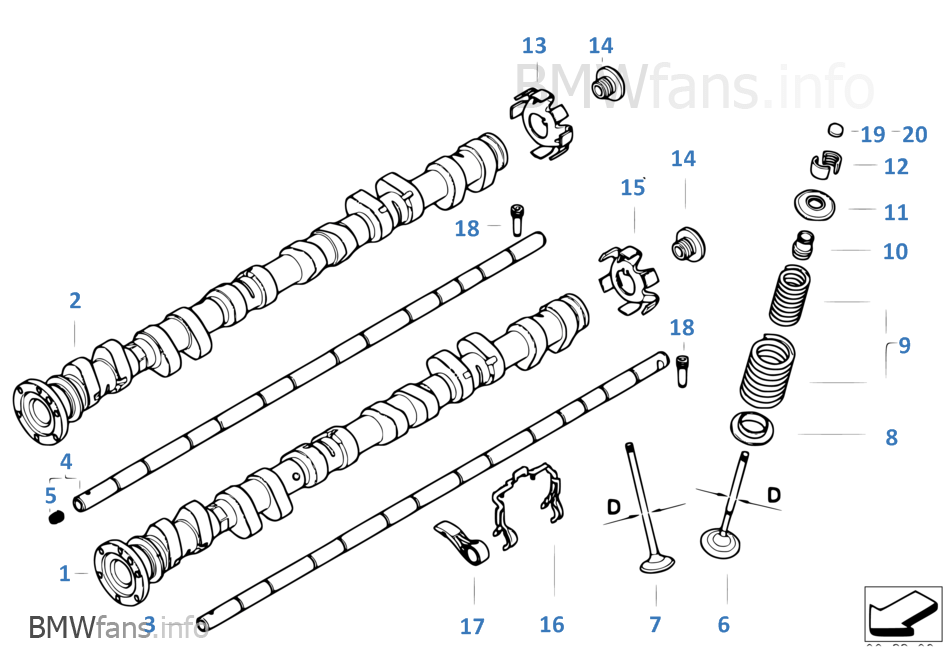 ---
triggerlog ?
Note: [old log files] were not captured with this method, and not suitable to reproduce what is going on.
First, according to Dave's instructions from October mail:
Could you send me a triggerlog and vemscfg of engine cranking 8-10 seconds without IGN and INJ fuse, with all three triggers enabled in the following configuration:

primary trigger = rising, sec trigger = falling and third trigger = falling edge ?
I will review and make suggestions accordingly."
After that, capture triggerlog:
start capture triggerlog (preferrably 115200 baud)
starting engine (this should be in the log)
advancing cam (actuating manually)
engine might stop because of this
don't forget to name/annotate the log, taking note of what is happening, so it's possible to find (among dozens of other)
preferrably a vemslog should be captured with similar sequence (it's another attempt, as it's not possible to capture 60-2 triggerlog and vemslog at the same time because of baudrate limitation)
---
2014-11-05 15.56 logs - at least 2 problems:
v3.3_u008907-2014-11-05-15.56.10.triggerlog
v3.3_u008907-2014-11-05-15.57.50.triggerlog

Min 2 significant problems (compare to the good log above):
Captured with swapped sectrig and third trig (missing tooth should go to sectrig; evenly spaced to third trig)
third trigger input (the missing tooth, which should go to sectrig EC36/pin13) has noise (perhaps the self made third trigger input they did not put a capacitor on there min 1nF or max 10nF ?)
Make sure to have the right edge selected: sectrig=FALLING, thirdtrig=FALLING
Make a new triggerlog with these, (without injection and ignition).
2 good changes:
vemscfg of 1.2.28 firmware
with correct polarity rising, falling, falling
However:

Although filename v3.3_u008907-2014-11-05-18.06.10-FELCSERÉLVE-2.-3,-TRIGGER-NO-INJECTOR.triggerlog says FELCSERELVE (== swapped), it's in fact not swapped, but same as 2014-11-05-15.56 . So since 2014-11-05-15.56 sectrig and thirdtrig routing wasn't swapped (or swapped twice):
If sectrig is evenly spaced as in this case, really swap sectrig and third trig, and capture triggerlog (until you get the 8-1 appear in triggerlog on sectrig as on the good example at the top).
---
Home-made third trigger input not good yet: Third trig filtering needed
If possible: Can you apply a 10nF capacitor between third trig and GND ? (internally would be better, after the protecting resistor, which is likely 10k or so).