MembersPage/PeterJensenPassatThrottel
VW Corrado
VW Passat
---
Electronic throttle body
All needed info. Vw throttle
---
http://www.vems.hu/files/MembersPage/PeterJensen/electronic_throttle_control.pdf
Throttle driver FET/IC TLE 6209R 7A H-Bridge for DC-Motor
http://www.st.com/stonline/products/promlit/pdf/flhbridge0806.pdf
Throttle/EGR driver stonline products
http://www.roboteq.com/ax1500-folder.html
Cost Optimized, 2 x 30A Brushed DC Motor Controller
http://www.mcmanis.com/chuck/Robotics/tutorial/h-bridge/bjt-use.html
http://vehicle.berkeley.edu/Publications/EC/pggri_msthesis.pdf#search=%22electronic%20throttle%20body%22
http://www.mathworks.com/company/newsletters/digest/jan02/throttle.html
http://med.ee.nd.edu/MED10/pdf/459.pdf#search=%22electronic%20throttle%20body%22
http://www.delphi.com/pdf/techpapers/2006-01-0763.pdf#search=%22electronic%20throttle%20body%22
http://www.visteon.com/utils/whitepapers/2004_01_0524.pdf#search=%22electronic%20throttle%20body%22
http://esl.mit.edu/tasm/ESL-TIK-00204.pdf#search=%22electronic%20throttle%20body%22
http://www.vems.hu/wiki/index.php?page=MembersPage%2FPetrPodrazsky
http://www.picotech.com/auto/applications/electronic_throttle_control.html // HansK?
http://www.vems.hu/files/MembersPage/PeterJensen/gaspjeld.pdf
Inputs - note there is a second signal to detect errors
2 PPS (Pedal position sensor) potentiometer mounted on the accel pedal:
2 TPS throttle position sensor : potentiometer mounted on the throttle body
Most likely 5V signals.
Output to drive actuator
a variable output 0.. 12V

or 0..+12V and 0..-12V ? (bidirectional push-pull style? might be possible with stepper outputs, except current rating....) Can someone confirm this? 10A full-bridge driver needed. or 3A but with automatic (HW) current-sense/limit/switchoff.

VEMS default HW does not have 10A bidirectional outputs. H-bridge driver needed

DC motor Driver: [TLE 7209-2R]
DC motor Driver: [ TLE 6209-R]
[digikey.com h-bridge] has plenty suitable H-bridges for $4..5, eg:
The software/firmware to drive this is not too complex, but we experienced some lag during last months even for simple firmware tasks.
What is the current-draw ?
Normal load: 2,5A
Stall load 9,5A
See the above documentation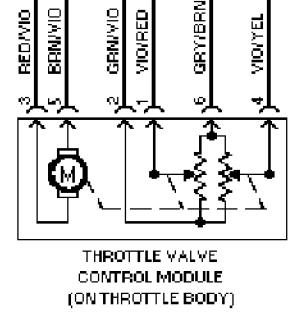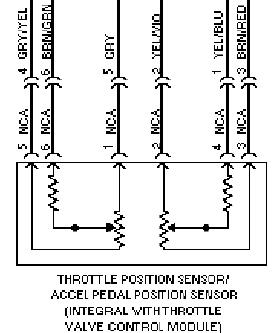 4/10-06
I got a new car VW Passat 1999 and would like to VEMS it but can we control the electronic throttle ?

most likely not. Any useful info about the throttle ?

will it be possible in the near future ?

if you get (find/sniff/query from manufacturer) the CAN-codes (assuming it's CAN-controlled), than maybe. Otherwise not

Or are there another way to do it ?

mechanical linkage (clumsy ;-)
---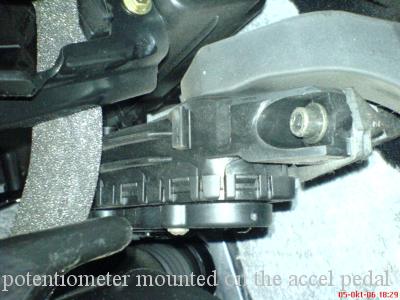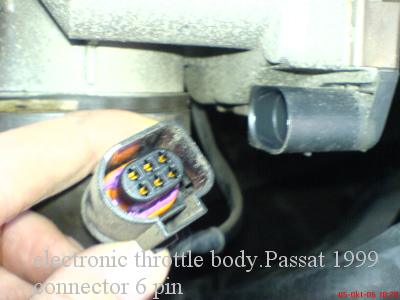 The connector is : [LSU4.9 WBO2 connector] (1J0973713)