MembersPage/MarcellGal/PowerAndTraction/TurboExhaust
Subpage of MembersPage/MarcellGal/PowerAndTraction
K26-6/27 turbo, the K27 compressor looks like (cm scale):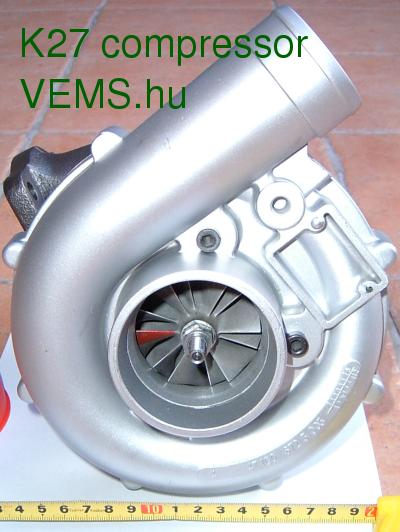 ---
Exhaust and turbo
We use the factory exhaust manifold, but custom 70 mm diameter exhaust (at least the exhaust is ALS compatible ;-)
A friend purchased [187 USD RS2 exhaust manifold] from [ebay]
it's actually 187 + 100 USD with shipping to Eastern EU
as you might expect, the weldings look good outside, not so perfect inside. But not very bad either
friend will try to stick (bigger than K26/27) turbo on his manifold, without extra strengthening (for street use). I think that is a bad idea, the exhaust manifold will crack (sooner than later) due to heat and vibration.

I would definitely strengthen: connecting to near engine-mountpoint (seems best: turbo is very close to engine mountpoint in the audi, 8..10cm: only watch some clearance for securing screws). Connecting to head is another option
---
Turbo (compressor side) upgraded
to K26/27 (appr 6xx EUR). Good for max appr 400HP. Minor compromise is that it is now an oil-only turbo (=> no watercooling: if I understand right, keeping watercooling would require some overpriced factory parts that just aint worth it).
The K26 turbo was upgraded by http://www.ahturbo.hu/ with instructions:
to upgrade compressor side to K27 with rotor sizes 53mm/76mm

turbine wheel dia=56mm, compressor dia=53mm (would be useless with turbine smaller than compressor).
turbine outlet is 56mm diameter (the 6 in KKK numbering scheme). It's the clone of a proven setup (that worked well in an engine built by them earlier). Perfect for the street.

turbine renewed (but housing kept)
oil-only accepted (no water-cooling)
K26-6 turbine housing (cm scale):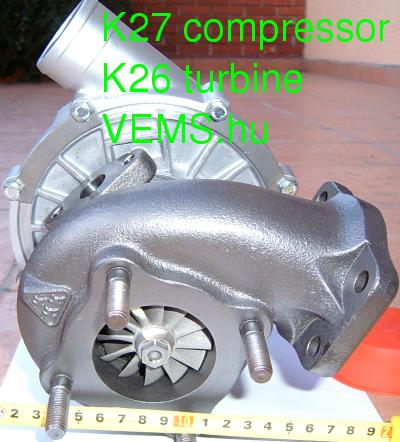 Kalske says: Remember that RS2 turbo is 48/54 which is good for about 360, you are getting 53/55 which will do 400++

Nanassy said exactly the same !

Kalske and jhwh say: the same turbine wheel goes into 3 different A/R housing, marked (in KKK numbering) 6,8 and 10. Higher nr gives more power (appr 45 HP each step), but boosts later (3000, 3500 and 4000 RPM, respectively).

so turbine housing="8" is the best choice for this turbo. Stay away from 10. 6 is not optimal, but works. (and 6 might match the restricted exhaust manifold and factory charge-cooler and street-operation better than the other turbine housings)
you should look for a cheap #8 house. On [ http://forums.rennlist.com/rennforums/forumdisplay.php?s=&forumid=72 rennlist] you can probably get a 8 housing next to free as many people upgrade. I contacted the guy (back than) but he did not reply.
if you come over a good deal on one it should only be a minor mod, remove turbo, remove housing, bolt back on

AFAIK KKK uses cm2 rating on turbines instead of A/R (on Garretts, and so on...). I guesstimate the 8cm2 turbine will provide a quick spool-up (maybe in the 2200-2800 rpm range on a 2.2l engine), which means big fun on street, and some restriction in the top-end power. -GergelyLezsak?-
---
Wastegate - to be replaced ?
after we fixed a small leak
did a no-airfilter test
with full (precooler) boost applied to wastegate top
nothing (athmosphere) on wastegate bottom
max MAP was still only 199..205 kPa => Most likely the wastegate is broken (the diaphragm/membrane is broken?) and the spring is too weak to hold against the exhaust pressure (the area is quite big on this wastegate). If the wastegate membrane is broken, the 1 bar boost is about right (based on other's experience) for this audi factory wastegate.
What should we do with the wastegate ?
How can we make sure that is the problem ?

apply some pressure (with compressor) on top and see if it leaks >
should we use some mechanical stop (or much stiffer spring) as further test ?

Does wastegate have to be pulled completely ?

Or guts can be replaced without pulling the whole thing ?

you can get new membrane from audi with part# 035145797B. Just open the 6(?) M4 bolts on top of wg.
The quattro car is fun with 200kPa, but we would like 270 .. 280 kPa MAP. otherwise the engine was a bit too expensive (for factory power).