MembersPage/IgnjatRNN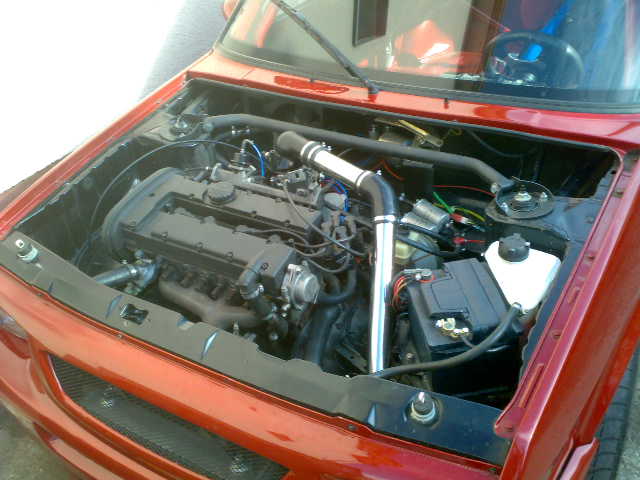 My first page here will be actually my last project. It's a small car made in Serbia with well known c20let engine from Opel Calibra turbo. Goal was to make a car run as it should with Vems in less than ten days (tenth day was drag race in Osijek, CRO). All wirings were made according to Phat Bob guide, like all others car I installed Vems before, luckily without any problems. Harness was made of 0.75mm2 automotive grade wire, with exception of ground wire 6mm2.
MAP and MAT sensor used for this install was Bosch 0 281 002 401, same from webshop, with difference in range of it. In webshop you can find it's 300kPa sensor, while actually its 330kPa sensor.
---
standard VR sensor
stock 60-2 trigger wheel
19 teeth before TDC
Secondary trigger was taken from Astra F GSI which uses DIS module.
---
Ignition subsystem was wasted spark DIS module droven with two IGBTs.
Injection was fully sequential, made also according to PhatBob? guide, with Siemens DEKA 630cc injectors used, and with 30v flyback diode installed.
Firmware used in this case was 1.0.78 because of possibility of using ignition retarding when using NOS, with only input configured.
---
Two more inputs were used for launch control and flat shift (aka shift cut), configured to cut only spark while shifting gear, with 250mS used as longest period of cutting. Be careful when playing with launch control, you could destroy your exhaust system, dramatically shorten turbos life and make very high EGT
---
---
Successfully installed Vems, needs to be tuned
Used OEM 60-2 crankwheel and sec trigger, but couldn't use it on falling edge, so used rising for HAL sensor on cam. 13th tooth is TDC on 1st cylinder.
OEM coilpack used, with removed amplifier.
440cc/min Bosch "Greentop" injectors used, with 30V flyback, fully sequential setup.
OEM CLT
MAP&MAT Bosch 0 281 002 401
WBO2
EGT
OEM HAL and VR
---
---
Successfully done. Engine was fully rebuilt by RNN team with upgraded pistons, conrods, cams, gt2871r, full headwork and a lot more funny parts. :)
---
Wiring for VEMS is temporary made of OEM engine management installation (will make new once).
Making of new wiring harness in progress. It's a bit harder job than I had it in my mind. FIAT wanted to put a bit more wire than Coupe needed, so now I'm trying to make some sense of those spaghetti :) Some strange misfire begun in last few days, first about 250 kPa, than 240, another day 230, 220, 200...
New harness is finished today. Misfire was probably caused by broken COPs. I changed them with VAG active COPs
---
Fully sequential COP, OEM COPs used
Now VAG active COPs used. Removed IGBTs, no need for them any more.
Even with "old type" of VAG COPs i had very weak spark, so I needed to lower resistance between VEMS and COPs. Now it's very strong spark, and no problems in boost anymore.
---
---
---
---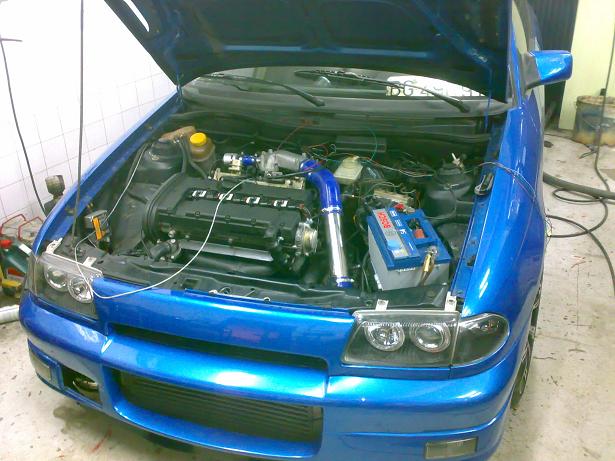 ---
OEM 60-2 crank trigger wheel with VR sensor for primary
Astra F C20XE sec trigger used, no distributor
---
VAG active cops used, fully sequential setup
---
Siemens Deka 630cc/min injectors, 3 bar fuel pressure
---
Astra F c20XE Secondary trigger (hall sensor)
---
---
TODO these days, just ordered parts for it.

This car came to my workshop with VEMS already installed by someone else. Bad flyback, poor wirings and not so good configuration and mapping resulted in major engine damage. Engine is mechanically fixed, and it's time to fix VEMS...
Can you tell serialnr of this VEMS ? So we can get some idea of its history. Btw, nice progress. Mention your URL for any WebShop order / discount negotiation.
Yes, I'm holding it right now in my hands. It's 2322. v3#2322 was sold as a board (so home-assembled).
Started making new harness. Resoldered VEMS completely, reconfigured hardware to match engine hardware, put it in a new box and started spaghetti job. I also installed 30V flyback diode inside.
no secondary trigger at the moment, need to make something. I'll probably try to make it with hal sensor from webshop
Need to make sec trigger for sequential injection
OEM wasted spark coils droven with two IGBTs
---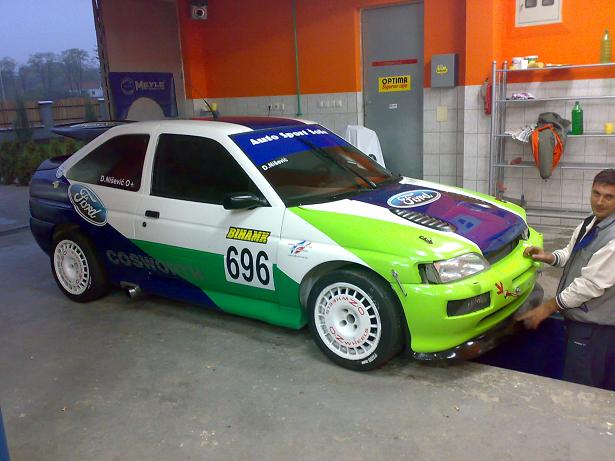 successfully done, with a looooot of problems, need some time to write...
We work with these engines mostly, so I am interested in your experiences, problems, sollutions. - MembersPage/ZoltanAlmasi
---
---
unfinished, will finish/write about it after painting :)
---
---
successfully done, after that upgraded turbo and injectors, will write later...
---
---
A little waste of money and time my team is working on :) Will write about it when it's finished
---
---
My first Alpha-N setup. K4 1000 ITBs mounted on custom made intake manifold. It seems Alpha-N is much easier to setup than I read on forum. Very smooth running, fantastic throttle response and pretty low fuel consumption. I used 1.1.84 firmware, and everything went very smooth, without any problems.
standard VR sensor
stock 60-2 trigger wheel
19 teeth before TDC
OEM hall sec trigger used, modified old distributor.
---
VAG acive COPs, sequentially fired.
Modified ignition outputs with lowered resistance to 180 Ohm
C20LET injectors used with OEM C20LET fuel pump, fully sequential setup.
Suzuki K4 1000 ITBs used with custom intake manifold.
---
---
To do. Collecting parts for it. Slide throttle bodies, 340 deg/10,5mm cams, lightened, polished and balanced crankshaft, very light pistons, and a lot of funny parts :)
---
---
Alfa Romeo 75 3.0 America
To do these days, after engine rebuid.
My car. I bought it with broken engine and made XE with stock block (changed crankshaft, rods, pistons, head, intake, exhaust, everything except engine block).
standard VR sensor
stock 60-2 trigger wheel
19 teeth before TDC
Made sec trigger using two different distributors and HALL sensor, lathe and drill
Fiat Punto 2 coil wasted spark
Like all other vehicles I installed VEMS, here I made harness with stong gnd and left stock fuses for power supply. Idle actuator used is stock c20xe with 1n4007 used. Wired input switches for launch control (small switch changes function of siren to lc), shift cut (switch to enable it, and microswitch on clutch pedal) and dual config switch I plain to use for petrol/LPG maps.
P259 used for fuel pump, tacho, fan 1st and 2nd speed, MIL and A/C
4 injector drivers, one FET for idle
Subaru Impreza STI BugEye? PNP
Group N rally car, so all engine internals are stock. I made PNP Vems for it, using original ECU connectors, VEMS aluminium box with modified front plate to accept connector.
OEM 36-2-2-2 Subaru primary trigger
OEM secondary trigger used
OEM COPs sequentialy fired
OEM pink injectors 565cc/min
Wiring harness left stock (it couldn't be changed), because engine should start if OEM ecu plugged in. Added external connectors for WBO2, inputs for Launch Control, dual maps and flat shift.
P259 used for tacho, fan 1st and 2nd speed, MIL and shift light
Stepper chip for ignition
4 injector drivers, one FET for idle, one FET for boost control