MembersPage/HansK/OpelC
The car is a Kadett C with a Calibra 2,0 16V C20XE engine mounted.
---
2006.10.05
Thanks Tonci fore his trigger-setup, but I still got the the trigger problem. The W.. counter on mlp01 LCD page reach 10 in 5-6 seconds. RPM is right but it just drop to 0rpm 1-2 times pr. second.
possible causes
noise
inverted VR polarith. See InputTrigger/TriggerLog
poor signal waveform. Eg. abnormal amplitude around the missing tooth
The last one is kindof likely. You should capture signal with scope or notebook soundcard. See ElectronicDesign/SoundRecorder. Especially with ALLOW_SLOPPY_TOOTHWHEEL (default compile option) it will work, eg. forgives sensing 57 tooth instead of 58: but counts wheel_error, and sparks 1 tooth late if the tooth was lost before the trigger tooth (which often is: typically the tooth after the missing tooth "gets lost" this way) when this happens. At higher RPM (where more than 1 tooth is likely to get lost), spark might be cut. Proper wheel, or raping the adaptive histeresys or pullup might get away the problem.

I took a pic of both the signal before and after LM1815, to see if a tooth was lost there.. it don't seem to.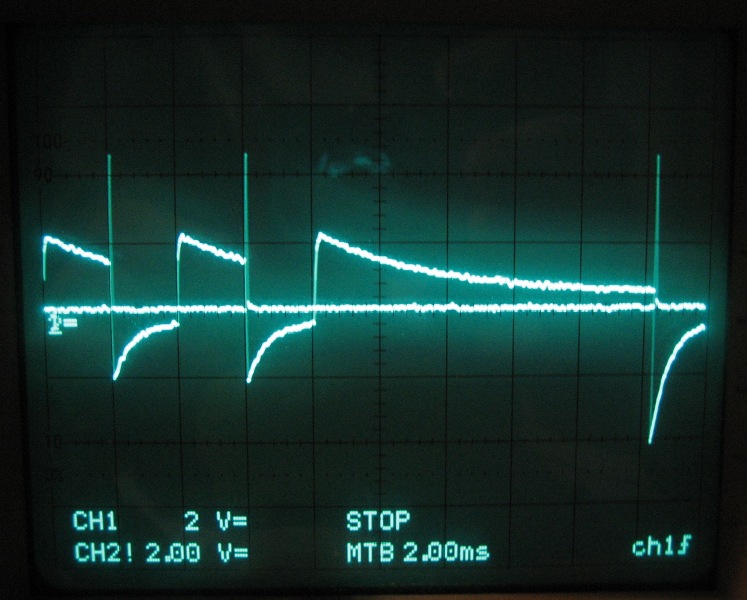 I have also taken a screen-dump of my trigger setting in MT.. please comment if you think some thing is wrong, I have no experience with multitooth-trigger.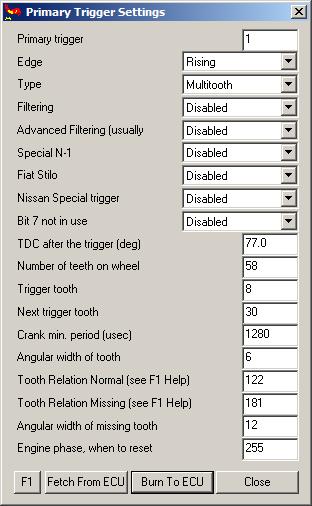 2006.09.28
MT also say "trigger-errors" when I'm using stimout (mstBAmsp02) :( ??
I listed my trigger-settings at the bottom af the page. The only thing I'm not sure abouth is "trigger_tooth". I've seen both 02, 08 and 10 in others config-file (with 60-2 tigger). What does it mean? Can any one see any thing wrong with my ttrigger-settings?
2006.09.25
I tryed using stimout generating a 60-2 trigger signal to trigger the board. I did not see RPM in display going to 0000rpm once in a while like when using wave-file from PC made by "Trigger signal generator".
after using Terminal (eg. to start stimout), you need to say bye (say byebye -lowercase! - just to be sure, it'll respond with Bye). Other wise you will NOT be able to connect to MT (MT says "trigger-errors" if the W.. counter is above 10 on mlp01 LCD page).
Any one who has experienced similar problem when using "Trigger signal generator"? http://www.vems.hu/wiki/index.php?page=ElectronicDesign%2FTriggerSignalGenerator
make sure to use a recent version, preferrably the one that takes 100-300-8000 format and makes output filename itself (from the input options). I use audacity (on windows and linux too) becuase it's easy to verify waveform
2006.09.19
I have tried changing threshold on LM1815 with out luck.
I'd like to try to use the board to generate the trigger-signal http://www.vems.hu/wiki/index.php?page=OutputTrigger but I need firmware V1.0.53 where MY_CONF += -D WOT_OUTPUT_TPS_THRESHOLD is enabled in the my_make file.
Hans, a firmware image with that compile option is not needed stimout is still available on the channel you select for the wot_output (for example p259, 5) outputs the pulsetrain on the fuelpump pin; (dont use the same channel for fuel_pump when using it for stimout), dont forget to add an inline series cap from stimout pin (needs to be pulledup with resistor to +5v) when feeding it into the primairy trigger pin - DB
Thanks!
2006.09.13
The engine has a 60-2 trigger wheel on crank so I tried to trigger the board with the signal-generator generating a 60-2 signal (m582 1740 200 20 1000 1000) but MT shows "trigger-errors", and a datalog shows random 0RPM one or two times every second.
http://www.vems.hu/files/HansK/datalog200609122217_trigger_errors.xls
I'm using firmware/MT 1.0.53
---
Config:
primary_trigger=01 #or 09#toothed wheel and VR sensor
secondary_trigger=02 #disabled
tooth_wheel=3A #58 teeth (60-2)
trigger_tooth=08
another_trigger_tooth=1E
crank_minper=50 #?
tooth_wheel_twidth1=6
tooth_wheel_twidth2=0C #12 ??
cam_sync_r_edge_phase=FF
cam_sync_f_edge_phase=FF

reset_engphase_after=FF #?

ign_tdcdelay=9A

ign_dwell14=3E
ign_dwell6=60
ign_crank_advance=50
ign_out=70
ignchmax=01 # wasted spark

try this setup...this is from my c20let engine (engine from calibra turbo) that has the same trigger wheel and crank sensor like c20xe. It also has coil from edis wasted spark setup so don't use this dwell values.
primary_trigger=09
secondary_trigger=02
tooth_wheel=3A
trigger_tooth=08 # means that tooth that trigers event is 8'th tooth from mising tooth on wheel, this is compensated with ign_tdcdelay value 
another_trigger_tooth=1E
crank_minper=50
tooth_wheel_twidth1=06
tooth_wheel_twidth2=12
cam_sync_r_edge_phase=FF
cam_sync_f_edge_phase=FF
reset_engphase_after=FF

ign_tdcdelay=9A

ign_dwell14=3E #this vlue is for ford edis coil
ign_dwell6=A0 #this value is for ford edis coil

ign_crank_advance=50

Don't forget this values:

toothrel_normal=86
toothrel_missing=D5

they activate allow_slopppy_toothwheel (that c20let engines have)option.

If it still shows trigger errors try switching polarity on vr sensor.
---