MembersPage/GrmRacer/OldPage
Description
This car started out as a normal 1988 white 16v scirocco. It has undergone significant changes. Now it is a GRM challenge car. [The Challenge] is a competition to see who can build the best drag/autocross/show car for approx 2000 USD. Below is a list of changes!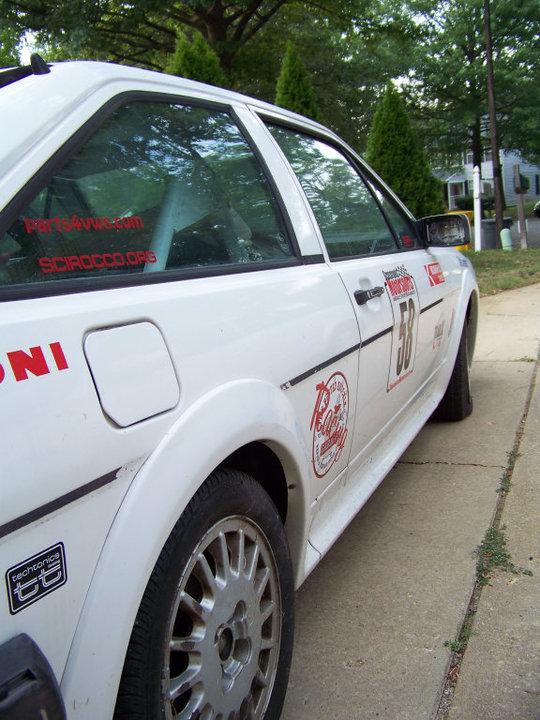 ---
Motor
The 1.8L PL block was traded out for 2.0L 9A block
The 16v head was ported, polished and decked. The Compression was raised to 12:1.
The stock cams were reground by Delta Camshaft to copy Schrick 270/272 specs
Fueling
Stock CIS (K-jet) was removed and replaced with VEMS 2.2 then 3.2
VW 1.8T fuel rail and EFI Injectors replaced the stock CIS fueling
The original 5.0 bar fuel pressure regulator(FPR) replaced with 3.5 Bar VW 1.8T, added a FP gauge (originally a pool (H2O) gauge) now a proper gauge from Usually Sideways Rally Team.

Still a problem we are running approx 100psi Fuel pressure!
Ignition
Stock Distributor, stock plugs
Trigger
Stock 4 window Hall sensor [VAG/VW/PL]
TPS from GSX-R ITBs
Intake
GSX-R 750cc ITBs with secondary plates removed, spacing done with threaded stock

Still needs balanced, I did it via eyeball

Custom Intake [Manifold]

still need velocity stacks and filters.
VEMS 3.2
AlphaN -- finally happy!
Closed Loop WBO2 -- heater circuit not currently working, need to trouble shoot it
MAP/RPM table 'ZERO car much happier

Tables & configs to be uploaded
DynoTuning? coming soon, I am very excited
Data Logs
Need SDlogger
Transmission
Custom Bubb transmission 4K based
Peloquin Diff
ACT clutch
7lb flywheel
Suspension
Ebay coilovers
Rebuilt Koni yellows with 12.5W front fork oil
Front Coils unknown
Rear Coils unknown
13x9 265/40R13 Hoosier A6
stock front anti sway bar
stock rear anti sway bar
Interior
Homebuilt roll cage
Gutted Interior
VEMS
MOMO steering wheel
MOMO carbon fiber racing seat
Loose dash
coming
Interior Camera mount
Fixed Dash
Bigger Tach
Shift Lights
Fresh paint
1988 VW scirocco