MembersPage/GergelyLezsak
Current Projects
About triggers:
MembersPage/GergelyLezsak/BMWTrigger
MembersPage/GergelyLezsak/MitsuSixGSeventyTwo
MembersPage/GergelyLezsak/SoundCardTrigger
MembersPage/GergelyLezsak/TriggerFanNoise
BMW M52-M54 ECU repair :MembersPage/GergelyLezsak/BMWMFiftyFour
PT Cruiser turbo project : MembersPage/GergelyLezsak/PTCruiser
Wheelspeed experiments : MembersPage/GergelyLezsak/WheelSpeed
Assembling V3.5 board: Some pics on assembling a recent 3.5 board. MembersPage/GergelyLezsak/AssemblyThreePointFive
BMW E21 turbo project: VEMS ECU install on a BMW 320 from the '70s - M10B20 engine. MembersPage/GergelyLezsak/ETwentyOne
my M30 turbo project: building a new M30 turbo (M102) engine with GenBoard 3.3. MembersPage/GergelyLezsak/MyMThirty
Turboa's streetcar project: help a friend with M30B34 Turbo (old BMW 745i) with Genboard. MembersPage/GergelyLezsak/BigSixTurbo
Zakszi street-drag projet: BMW E30 3.5 turbo, MembersPage/GergelyLezsak/Zakszi
5Hz 'Racing' GPS applicaton : Experiments with a bluetooth GPS module with 5Hz refresh frequency (instead of standard 1Hz) - MembersPage/GergelyLezsak/RacingGPS
Flyback variations : I'm trying to get better control over big injectors - MembersPage/GergelyLezsak/FlyBack
Nitrous experiments : Plan to spool turbo with N20 injection - MembersPage/GergelyLezsak/Nitrous
---
Old/abandoned projects
Volvo V40 T4 : Possibilities on VEMS-ing a year 2002 Volvo V40 T4 while keeping the stock comfort... MembersPage/GergelyLezsak/VolvoTFour
SilverGTI?: Helping to Akos Sovak's GenBoard installation into his high-performance 2.0 N/A Peugeot [MembersPage/GergelyLezsak/SilverGTI]
Traction Control: Since these beasts produce 500++ Nm to the rear wheels it's a good idea to have [MembersPage/GergelyLezsak/TractionControl]
Minor project : Using of round WBO2: MembersPage/GergelyLezsak/AfreshTiny
Minor project : Pressure Sensor test: MembersPage/GergelyLezsak/PressureSensor
Minor project : Injector measurement: MembersPage/GergelyLezsak/InjectorMeasurement
You can find me on some internet forums as 'lezsi'.
---
My project car is a BMW E30 318i from 1984.
I bought the car wit a 325i (M20) engine with a turbo, but that's sold by now, and I'm in the building of an M30 turbo engine (from a '82 745i) continuously :)
The way I bought it: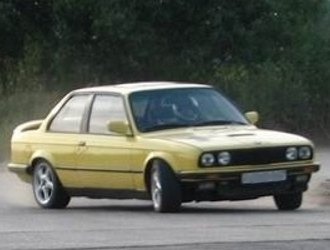 Current state (september, 2009):
Recent dyno graph:
Article on the car in a hungarian webzine:
http://vezess.hu/magazin/tuning_bmw_suzuki_aron/11341/
---
---
My own 325i old project data
Below this point you find old project data of installing GenBoard onto my original M20B25 turbo engine.
Original setup
Car outlines as I bought it:
Engine: M20B25 (325i from ~1987) 2500cc, 6 cyl inline, 12 Valves, SOHC (stock, but lowered compression) [Engine bay(huge pic)]
Fuel injection: Bosch injectors from E36 325i (part no. 0 280 150 415) maybe 190 cc/min @3.5bars. R=~16 Ohms (high impedance)
Fuel pump: Stock in-tank + stock external
Staging injector: Bosch no. 0 280 170 400. It comes from the jetronic cold start inj. (not a PWM system!), maybe 113 cc/min @3 bars, R=~3 Ohms. Switched by ~half throttle pos.
Adjustable fuel pressure regulator (home made, seems working, no fuel pressure meter altough). See MembersPage/GergelyLezsak/FPR
Water injection. High pressure pump (headlight washer), Bosch cold start injector. Switched by ~half throttle pos. See MembersPage/GergelyLezsak/WaterInjection
Turbo: Mitsubishi TD04-11B (it's a small one from 324d), internal wastegate with stock mech. actuator arm.
Idle control : stock solenoid, Bosch part no. 0 280 140 524. See MembersPage/GergelyLezsak/IdleControl
Intake: stock AFM with direct filter. Small air-to-air intercooler and a mech. pressure gauge. Some adjustable pressure valve as blow-off. Factory throttle pos switch (3 state; idle, between and WOT). See MembersPage/GergelyLezsak/TPS
stock 60-2 VR crank-trigger for Motronic 1.3, stock coil, mechanical distributor, 1 degree colder sparks. See MembersPage/GergelyLezsak/Trigger
inductive sensor from ignition cable (cyl. 6?) for cam position. See MembersPage/GergelyLezsak/CamPos
Coolant sensors: Two coolant temp (seems stock) at thermostat housing. See MembersPage/GergelyLezsak/WaterTemp

1. (one pinout) shows 120ohms @25c
2. (two pins) shows 2.18kohms @25c (this one sounds pretty standard temp sensor)

More sensors: There's no O2 sensor, and IAT is in AFM
Motronic 1.3 with tuned chips.
4.27 limited slip differential (Small housing)
---
Project plan
First goal : Achieve maximum power output from current mechanical design with reliability in the long run. Good driveability and fuel economy is also in sight. This is done by now.
Future plan : Additional mechanical improvements possible (larger injectors, big turbo, etc.)
Project stages
Design section
Financial
Firmware
Megatune related
---
Suggestions - some of them now obsolete
I try to control EFI first and leave ignition to motronic.
Issues with this configuration:
I have to share crank VR signal between two computers. There's a ~5V DC signal from the ECU. To share this signal, a series capacitor ("high-pass" filter) is needed so the AC is passed but DC is not. Min. value is 10uF (25V or higher recommended) - easy to mount onboard

When two ECUs are connected, the GND easily picks up some noise so special care is needed. This is working nice now, no problems.
consider ExhaustGasTemp (will be a small appr. 10 mm drill in the exhaust before turbo)

It's stated that cast part need to be heated with gas welder (?), then simply weld it with CO welder. -It's all not suggested however if any other option possible.
get a wastedspark coilpack. Common to use Ford EDIS packs, but Opel or VW might also be an option

3 transformers with 2 high-voltage terminals each)
or get 2 coilpacks if you can only get coilpacks for 4 cyl (there will be a spare)
Any suggestion is appreciated...
---