MembersPage/Gachax/Hardware
All the sensors were connected according the incredibly useful PhatBob?'s guide: http://www.vems.hu/wiki/index.php?page=MembersPage%2FPhatBob%2FUserGuide
Assembled unit came with R232 connector, but it wasn't connected to anything, so I had to solder it to EC18 pins.
---
Trigger
Stock VR cam sensor. It has 24 teeth and 2 additional pickups 180 degrees apart.
As I rushed things and ordered assembled unit with secondary trigger - Hall, I had to stick to the initial plan by using only NE signal from 24 teeth wheel and grind two opposing teeth off.
Otherwise, as I understand, it would be possible to use unmodified stock trigger as coil-type trigger together with cam-sync (from one of those additional pickups G1 or G2) as secondary.
So, in this case 24 wheel cam sensor with opposing teeth missing is represented as 12-1 crank wheel.
IAT
FAE 33160
Coolant temp.
Stock. Green connector on the side of the thermostat housing.
TPS
Stock. Using only E2, VTA and VC terminals.
MAP
External VEMS 400 kPa MAP sensor with temperature and 5v outputs - both seem to be useless at the moment.
WBO2 Sensor
1) INNOVATE BOSCH LSU 4.2 057
2) AEM UEGO
(OLD INFO:
I had AEM UEGO kit. VEMS supports specific Bosch LSU4 sensors and it turns out AEM is using the same sensor. Well at least pretty similar Bosch LSU4.2, so I connected it. Very helpful info to figure out wiring: http://wbo2.com/cable/lsuconns.htm. I was able to calibrate it with VemsTune. It appears to work.
Compared to the readings of AEM gauge and it showed AFR about 0.4:1 more rich.)
EGT
Standard EGT.
Knock
Two stock sensors wired but and not used.
Coils
Stock three wasted spark coil packs (one coil for two cylinders 1-6, 2-5, 3-4) driven directly from VEMS 3 ignition channels. EC36 pins: 35,33,34.
Injectors
LowZ 1000cc RC injectors wired with resistors.
Fuel pump
1)AEM 320. Stock main relay is activated by the ignition switch on, which provides power to circuit opening relay, which in turn is activated by VEMS - EC36-pin15 connected to stock FC wire.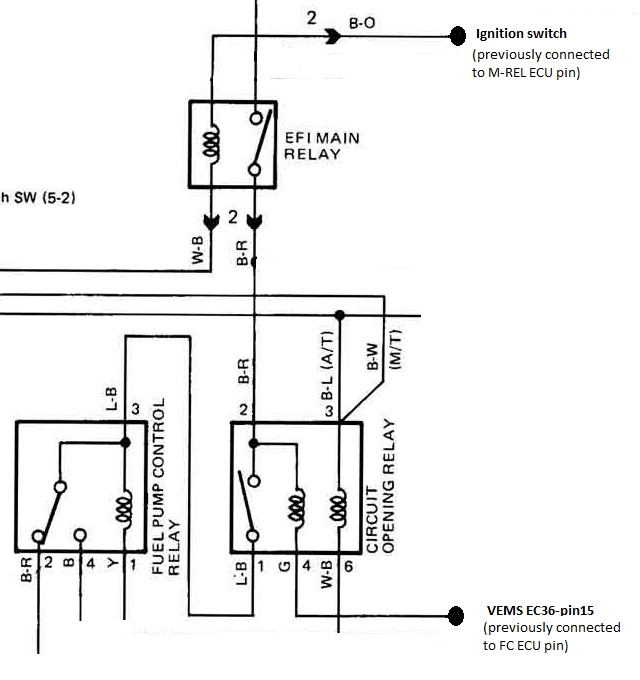 2)Walbro 255. Activated at certain boost level. Not that it's needed, but had a spare one.
IAC
OEM stepper valve
BC
Pneumatic valve 3way
TODO
- Try to get knock sensors working although it might not be possible as they are one wire sensors.