MembersPage/Bambi
Audi URS4 AAN engine with both supercharger and turbo.
5 cyl
COP
2.2l
Power target 700hp
5 pieces of 850cc/min injectors seems insufficient for 700 hp
what fuelpump ?
original wastegate, idle control etc
Progress to date:
New installation of VEMS 3.6 on 1.1.95 serialnumber = ????
separate 55pin to EC18/36 connector soldered a cording to an AAN_Build_Doc and pinout received with the unit.
Still have to solder the PC interface connector - not sure about the pinout.
I have worked with 55pin VEMS before on this car (borrowed from a mate) and it ran well.
The econoseal VEMS (mainboard is same) will run just as well when set up properly. A good idea is to request in the order comment "auditrigger setup with camHALL-inverter" (even if ordering mainboard instead of assembled ) to make the field-job easier.
So tuning etc relatively comfortable with - but the unit came setup already for AAN, this time I had to use GEN 3.6.
The internals are the same, but make sure to follow the instructions, eg. connect the 5 grounds together, read the warnings on the paper.
The Flyback motronic55/37 to ec36/23 is also very important

connect motronic55 / pin37 to ec36pin23
I did this via the 55pin connector - as I understand there is a fuse in the fusebox?
16Dec2012
Changed software to 1.1.81 to match a friend's car so I can try to use that config.
seems like a back-step into the old days; best to be very careful when changing to an old firmware, make sure to follow instructions and remove all injector and ignition connectors and injector and ignition fuses before upgrading firmware to avoid flooding cylinders with fuel or blowing ignition fuses or coils (if upgrading to a more recent 1.1.85 or newer firmware those precautions are not that critical). 1.2.2 seems a better idea (or 1.2.9 when available)
I noticed that the RPM does not read with ecu serialnr=.... - so probably why I don't get spark.
Checked wiring and all seems fine.
or maybe something like secondary trigger VR polarity is wrong ?

or sectrig cam-HALL is not setup neither for AudiTrigger/CamHALLInverter nor for the noninverting cam-HALL ?
Take a picture of your board, of this section... Do you have a SOT23 NPN transistor or a shorting wire in place of the red line ? :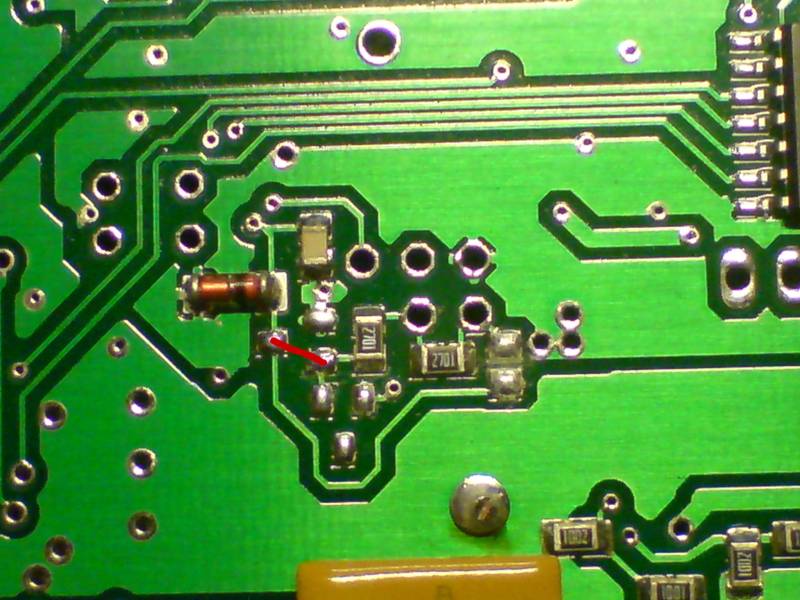 Maybe config ?

did you follow VemsTune/QuickStartAudi ? If yes, than hardware setup problem is more likely. In any case, we'll run benchtests with your config (if you publish it).

some problem with hardware setup seems more likely
in short, everything is missing that would allow anyone to help:

no config
no triggerlog
no info about onboard trigger setup (primtrig and especially sectrig VR and sectrig HALL).
Try to get all 3 published.