MembersPage/AstraG
Engine Opel 1,4 16V NA, 4 cyl, firing order 1342, without modifications (except exhaust, manifold, air filter)
Car using stock coils, stock injectors, stock electronic throttle body Bosch.
ECU SerialNr:15160
Internal MAP 400kPa (planned conversion to turbo in future)

appr +1.2V output in free air (103kPa ambient absolute pressure)

ETC (with bridgeoutput interface)
PROBLEM:
Car was tuned a half year ago, run perfect, without problems, but since one day last week, customer had a problem with start.
After checking all data with PC, i found problem with internal MAP sensor.
MAP still show 5-10kPa even if the hose is disconnected from intake. I also try to make little over/under pressure with mouth, but MAP value did not change.
This is a screenshot of MAP value and MAP settings: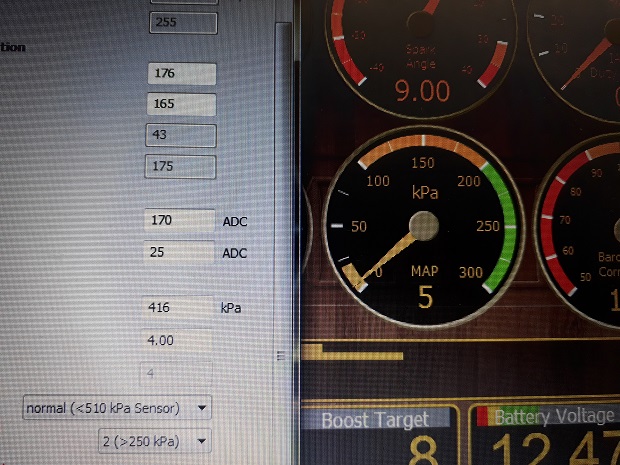 MAP sensor
is very easy to diagnose, even without disassembling, just remove endplate.
Measure MAP sensor supply (between pin3=+5V and pin2=GND )

Reply: Voltage measured: pin3+pin2 voltage = 4,93V
MAP sensor output (pin1)

Reply: Pin1+Pin2 voltage = 0,08-0,4V
Check the 1k protection resistor on the MAP sensor small PCB. Measure voltage on both sides. Is the voltage same ?

Reply: Voltage is same from sensor to pin1 (it means in front of and behind the resistor the voltage is same). It is just faulty MAP sensor? If yes, could you send me spare part or can i send you ECU?

maybe some trace or soldering ?
the signal can be traced to the BAV99 protection and the AVR pin, see GenBoard/VerThree/Schematic
this happens extremely rarely, sorry about the inconvenience. If you can fix it (yes, you can), please use order comment in next order: "please subtract 150 EUR from list price, self-repair 400kPa MAP signal oid..."