MemberPage/AldoQuiroga
turbocharged 1993 VW air cooled Mexican bug
Hi from Mexico
Hi im loocking for used vems round
v3.x Serialnr: ..... (or orderid ... )Order Number: 5839
Its Alive and running in my 1993 VW bug (vocho here in Mexico) 1585cc OEM engine with k03 turbo charged air water intercooler best ET in 1/4 mile 16.3 sec, with out turbo ran 20 seconds!!
regards
Short history of the board
was purchased as assembled or mainboard ? MAINBOARD
...
I ask for the firmware for my board because by mistake I connected a temp sensor input to the 12v line

ouch. First, If all the GND-s are OK, then 12V on the MAT or CLT input should not be fatal (it might not cause any damage). Or was it K-thermocouple (EGT) input ?
But if GND-s are not OK (or come off, or EC36 disconnected during powerup) that can be a problem, and firmware upgrade is very unlikely to solve the problem (it cannot cure if HW is damaged).
I have a few problems with my genboard.
When run VemsTune the software detect the board but pop up a window with legend device disconnected and the firmware upload menu is in grey color
Verify the RS232 connection, document here your wiring and voltage measurements:

DSUB9/2 - ...
DSUB9/3 - ...
DSUB9/5 - ...
Another thing the volt reg u20 gets very hot and the mosfet drivers gets warm
this sounds bad

verify (measure) polarity and supply voltage: ... V
measure current consumption: ... mA
Make sure to follow instructions.
is there a chance +12V power was applied without grounds connected properly ?

we've seen a case this year when GND came off (!) while +12V was applied (so powering GND through some FET outputs and atmega inputs => not good). This is also the reason why disconnecting EC36 under powerup is not allowed (damage is too likely).
See grounds connection: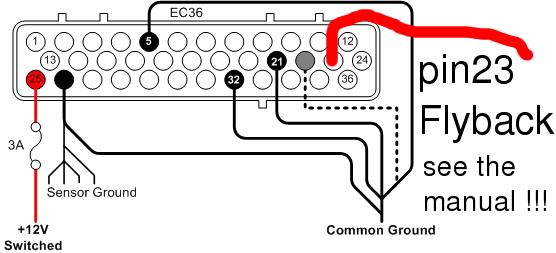 For assembled board, see relevant info http://vems.hu/download/v3/doc/ (also useful for home-assembled box unless one intentionally deviates)