InputTrigger/SubaruTrigger
Subaru Trigger is about the subaru 6+7 trigger (6 tooth crankwheel and 7 tooth camwheel)
2001 and newer Impreza WRX have a 36-2-2-2 InputTrigger/SubaruThirtySixMinusTwoMinusTwoMinusTwo crank trigger which is also implemented.
A sloppy request sounds like:

Subaru turbo, OEM engine, JDM 1997 2.0liter EJ20 280ps
I think 1997 suggests 6+7 (and that suggests VR,VR can someone confirm VR,VR ?). EJ20R perhaps ?
seems to match: EJ20R, EJ20X EJ20Y; two choices 6+7 VR/VR, or 36-2-2-2 VR + HALL/HALL
---
Works with the (pictures at the bottom) 6 tooth crankwheel and 7 tooth camwheel.
supported with 1.0.x firmware and in 1.1.x starting with 1.1.72
some old info for 1.0.x are on InputTrigger/ShortGapTrigger
but with 1.1.x firmware the 1.0.x config will NOT work, different config applies (needed: primary_trigger=A3, use the configlet from new VemsTune and verify according to GenBoard/UnderDevelopment/FirmwareChanges )

we made a tooth-counting approach that Jorgen recommended that does not care about time between tooth for decision. It works since 2010-06-15 with experimental 1.1.76 and 1.1.78 (even with very quickly varying input RPM). Some [configs] that were used for testing.

see MembersPage/MichaelRichards/Projects/SubaruECU

Seen on North American Legacy Turbo and the 2.5L SOHC plants (definitely on 99-01 plants, maybe on 02-03 plants and possibly earlier)
---
360 teeth not supported - the rest needs clarification. (separate page?)
Older Subarus(L-Series) with ECU controlled ignition have Crank-position [Signal disc] in distributor.
360 little holes in outer ring presents Crank-angle in one degree/Percent precision (For engine speed signal)

360 pulses not supported. Rob made signal disks with less pulses, maybe they can be installed
Four long holes, are crank angle signal. One of the holes is longer, indicating (possibly) Cyl 1. (Working on it!!)
Q: Any ideas how to make it work with genboar v3.0??
A: the 360-3 tooth crankwheel is definitely more than what current firmware can handle
---
Supported :
Newer subarus (Legacy mark1) have triggers like these:
7 tooth cam wheel: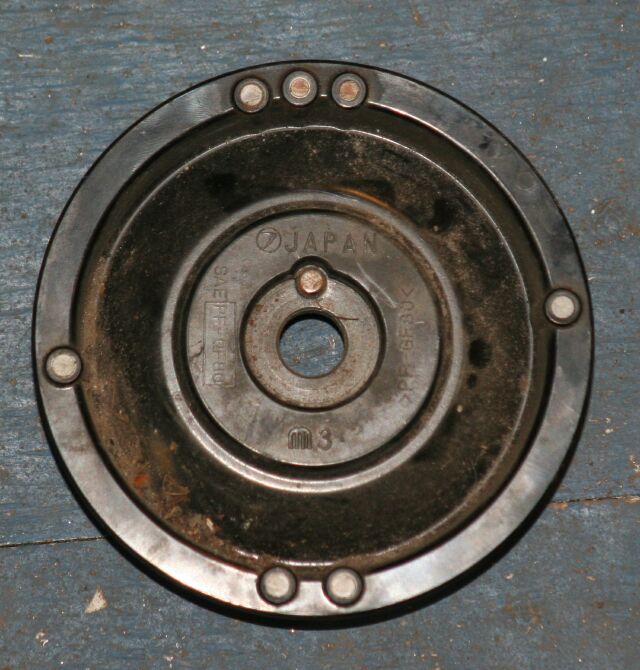 6 tooth crank wheel: