InputTrigger/SubaruEngineHsix
Subaru H6 engine factory trigger (engine position sensors)
Do the Subaru H6 engines use HALL,HALL,HALL position sensors ?
from below ("capturing with both polarity") => indicates HALL,HALL,HALL
A guy from Latvia is ordering some (bare mainboard) for Subaru H6; Without good instructions (no wiki page unfortunately), but he seems to suggest 4*VR sensor inputs... is that reasonable for H6 ? (actually, he says "Subaru 6h", but that might be a typo)

4*VR would be good for SubaruEj (where the pictures and scopeshots clearly confirm VR sensor), but perhaps VR interfaces not needed for H6 (HALL is simpler, just some filtering and protection)
any photo of the H6 wheel (or scopeshot) ?
---
InputTrigger/SubaruThirtySixMinusTwoMinusTwoMinusTwo (that has been supported for a long time) is very similar, but Subaru Engine H6 pattern is actually different (19, missing, 10, missing,missing) and this very arrangement only supported from firmware 1.2.12
Easy to start from a 4 cyl config and select "Triggersettings Subaru 36-2-2-2 (H6)" on the bottom of "primary trigger dialog" (VemsTune >= 2013-03-07), but if you have old "subaru 36-2-2-2 with camsync" config, the main setting to change is (IMPORTANT):
"Ignore sectrig pulses above" = 94
for geeks (who edit/verify .vemscfg file) secignore=5E (hexadecimal 5E, or 5F)
From 1.2.12 most likely other patterns of the same concept are also supported with proper config (with or without camsync, but normally used with camsync - essential for VVTI anyway).
---
Patterns, configfiles, etc...
[H6 Benchtest related files] - including config, log while running, and triggerlog
was working fine with a wide window for sectrig position: the bottom image as a starting point (fully retarded cam), and also with an extremely big cam-advance
Engine works! However there quite often camshaft angle measurement jumps for huge angle like it would be measured in previous half-cycle. But it happens only at low rews <2500.
Maybe the pulse comes late so you need to use a different measure tooth value ? A higher value ?
It happens only at low rpms. Above measurement do not jump at any cam possition. IIRC minimal angle was 30 or 40deg - not too close. And wrong measurement seems comes from following revolution where cam signal occurs shifted 120degries (3 tooth per cycle).
Here is my trigger settings http://www.vems.hu/files/GintsK/Subaru%20H6%20trigger/subaru%2036-2-2-2_H6_AVCS.txt. Copy it under C:\Program Files (x86)\VemsTune-xxxx\configlets\trigger and then trigger config is accessible from drop-down menu. Left camshaft sensor as primary. Tooth 0 in ref table belongs to 6th cyl.
---
vvt subarus have two cam HALL inputs

newer engine with variable intake camshafts + VTEC-alike lobe switching use 3 evenly slots (240 crankdeg) on each camshaft.

the non-vvt only have one camshaft
Two triggerlog files for old "dumb" H6 (== non-vvt ?, or captured with cams fully retarded ?). Files are captured with falling/rising secondary (HALL type)
http://www.vems.hu/files/GintsK/Subaru%20H6%20trigger/v3.3_n002316-2011-06-28-21.07.04.triggerlog
http://www.vems.hu/files/GintsK/Subaru%20H6%20trigger/v3.3_n002316-2011-06-28-21.15.54.triggerlog
Picture shows difference between both above files: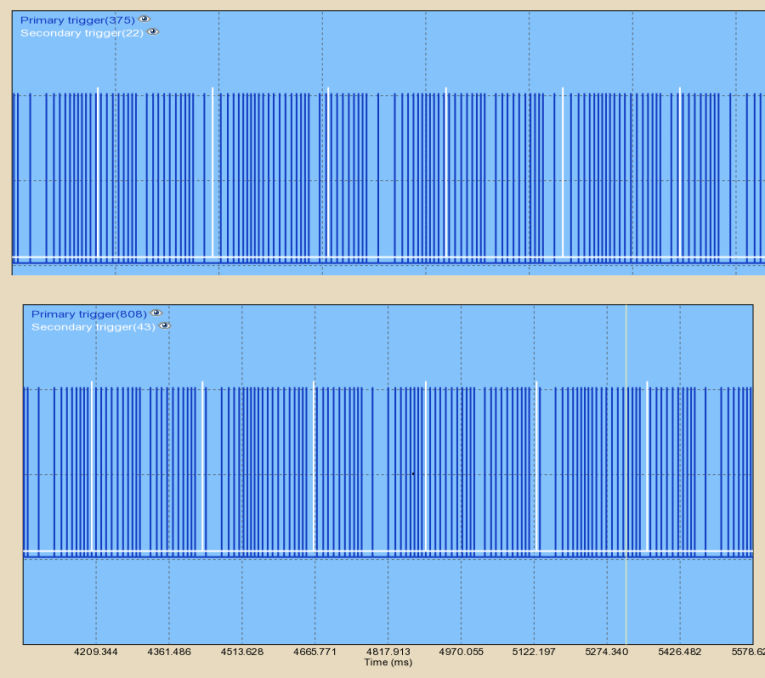 Note: the sectrig pulse (should come every 2nd crankrot!) is watched in the ~100 crankdeg window before the "lonely tooth" (assuming "Ignore sectrig pulses above" = 94).
Therefore the edge (especially sectrig edge, if sectrig is used) should be selected to match the BOTTOM picture (Gints, is that Rising or falling edge ?)
no sectrig pulse within the 10-pulse primtrig-group (when the cams are fully retarded)
when the sectrig cam is advanced (if it can be advanced at all), sectrig pulse might come within the 10-pulse primtrig-group (but between tooth 2..9, so not as early as tooth 0..2)