IgnitionPage/TransformerWastedSpark
Page for wasted spark transformers.
---
VAG VW/Skoda Durable, logic level input (works with 5V through 510 Ohm)
032905106 (other-current productnr is 032905106B )

there is a house-shaped grey (painted Aluminum) heatsink with 2 ignition drivers on the top of this coil.
4 pin connector is same as found on [this harness] but 4pin SSC can also be used in emergency (if you don't mind it get stuck ;-)
kalsket
available from Beru, bosch, febi, hella...
1stvwparts.com Electrical - Ignition system - Ignition coil IGNITION COIL, Golf, GTI, R32, 2.0L 1999 - 2001
We ruined one of the 2 drivers in a coilpack by applying bad pinout (as it turned out later, gnd to an input, and +12V to gnd, ouch). So take care. Verify in autodata or other sources if possible
Than Sami found the pin in some autodata application (maybe Golf, GTI, R32, 2.0L 1999 - 2001 ?) which turned out to work:
pin2=+12V
pin4=GND
pin1 and pin3 are logiclevel inputs.

Always make a "spark-gap" (eg. with wires: small alligator-clips work well) on both output-pairs when testing these.
the output pair-matching is obvious from the molding

voltage,dwell => current consumption curve (inductance): unknown
---
Bosch 0221503011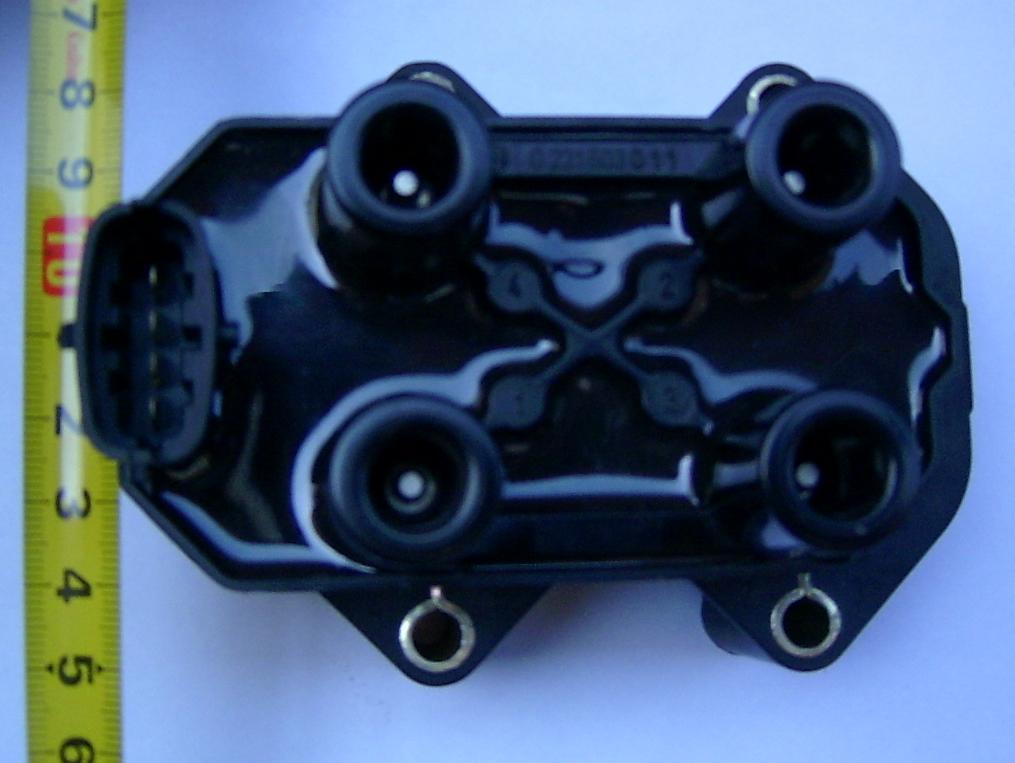 mass=907g
We found matching connector housing, although a bit expensive (will look for a better price >100 pieces). In the meantime, we don't have the source for the transformer any longer.
4 pin, 5mm pad-pad (yes, smaller than the more common 6mm design applied for JPT) apparently Junior Power Timer.
Tyco had no idea about it.
Inputs:
1,4 is apparently for transformer cyl1,4
2,3 is apparently for transformer cyl2,3
Beware that 3 and 4 are connected, so they must be supply:
1: switched power-dwell input for cyl1,4
2: switched power-dwell input for cyl2,3
3: +supply
4: +supply
---
Bosch data sheets
3x2 coil : 0 221 503 002
http://www.bosch-motorsport.de/pdf/components/ignition_coils/3x2.pdf
2x2 coil : 0 221 503 407
http://www.bosch-motorsport.de/pdf/components/ignition_coils/2x2.pdf
---
The Webshop does not sell a connector housing for the 3X2 coil.
I found that the Bosch part number 1287013900 works for this coil.
---
See also