GenBoard/Manual/MainWiringDiagrams
See GenBoard/Manual/EcuEcTen for EC10 connector from VEMS ECU (not to be confused with the EC10 between GenBoard/Manual/MainWiringDiagrams/RelayPart and main harness).
---
Since 2010Q4:

the coolant relay main current (possibly 30-40A) does NOT go through the main relay and main fuse (but has it's own fuse, and the coolant relay solenoid +12V is fed from the main relay so the main relay still cuts this circuit)
Important notes (only for relaypart purchased mid-2010): GenBoard/Manual/MainWiringDiagrams/RelayPart
Links to generic installation wiring diagrams
note: if you write GenBoard/Manual/MainWiringDiagrams to a page, the "referrer" page shows up in the "reverse-links" (click on the pagename in top-right corner to see referrers).
---
Harness Discussion
Fully customized harness would be too long latency (also, costly). 1 or 2 types of "fits all" harness that is easy to apply for almost any install. Write your opinion below
Common characteristics
relays

main power relay
fuel pump

the original had a small (easy to fix in 5 mins) error here, as the return input of the relay needs +12V (not GND as it was connected). Since the ECU pulls the output to GND

...

fuses

ECM
injector
ignition

not press receptacles into EC36-wire conn, so they can be applied (to chosen logic-level or power outputs) according to ECU options

fuel pump
wideband
spare channel (fet) 1 e.g. iac pwm (external flyback diode)
spare channel (fet) 2 e.g. boost (external flyback diode)

sensors
triggers

primary (properly shielded cable usable as either vr or hall)
secondary (properly shielded cable usable as either vr or hall)

it might be reasonable to NOT press receptacles into ECxx, so these wires can be used for something else (knock, boost solenoid, whatever) when the secondary trigger is not used (most wasted spark applications).

proper GND, GND5
proper flyback
WBO2 connector
serial connector close to ecm
... ?
---
Type-F - old. Phased out, in favor of the more versatile "v3harness"
F named after "Firewall connector". F0,F1 versions (from different batches have very minor differences). Basic features:

injectors for 4 cyl
injector-type AMP connectors for sensors : will be crimped by installer in future versions (since different type connectors exist)

F0: (original batch, only a very few pieces): ignition was 1+2
F1: the ignition branch upgraded from 1+2 to 1+10 (max 5 is normally used for ignition. The rest is for extra functions)

that is one +12V (thicker wire, ~1.5mm2) and 10 wires that can be controlled from ECU. On the ECU side, they can be pressed into any EC36 position (to allow logiclevel or high current drive, or medium current). This allows any kind of customizations, boost, evaporator purge valve, ALS throttle kicker, more ignchannels, you name it
Made in EU (a plan making automotive harnesses). Work quality is very professional. Some recommended aircraft grade wires instead of automotive. For now, they use the same wires as for Audi, VolksWagen? and other manufacturers.
Photo of Type-F0: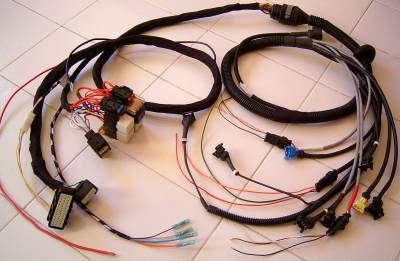 Type-F1 is available in WebShop, as [Loom Connectr/bigharness], best suited for 4 cyl engines.
see Type-F notes above
4 injector channels (8 channel possible)
1 + 10 wires at the "ignition" outputs, that is +12V and 10 wires that can be sticked to any Econoseal position, typically 2 wires (for 4 cyl wasted spark) + 8 extra control (BoostControl, staged injectors, NOS, whatever...). But any other assignment is possible, such as:

2..4 ignition channels (passive coils)
6..8 extra outputs (can be anything), example:

stepper out
2 low power outputs (p259, e.g. tach, shiftlight)
PDF schematics:
http://www.vems.hu/files/Wiring/BigHarness/pdf/

a HU=>EN dictionary added now (lame), we'll fix the color names in the .pcb files. Fire a query in webshop if you want the most up2date editable .pcb files (eg. because you want to change color names to English ). See Circad98 below
---
Type-V available as [v3harness]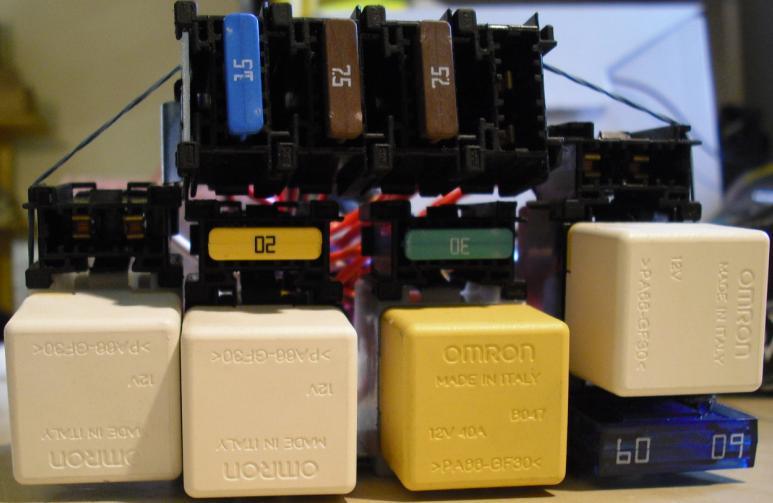 [schematics and color dictionary] (the partner used Hungarian colors and some words on the schematic). Eg. "rele"=relay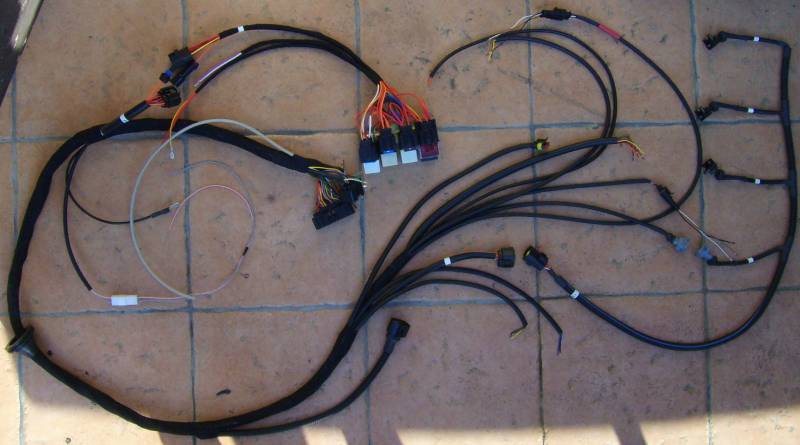 no firewall connector. Advantages:

more appropriate length, the length in the enginebay can be adjusted freely
lower weight
lower cost
the relay part (which is too big to be pulled through the firewall), only has 10 connections to the harness, detachable via a durable 10-pin Econoseal (yes, same receptacles as EC36+EC18) wire-wire connector. GenBoard/Manual/MainWiringDiagrams/RelayPart
no disadvantages: the harness can come out with the engine easily, just as it could with the firewall connector (only 3 connectors disconnected in the cabin: EC36, EC18, and the EC10 relay connector).

detachable injector part
much room for customizations with MANY extra wires for custom signals:

5+4+1+1+1 (ign,inj. sectrig, knock, MAP)
ground and supply (5V or +12V, fused, even switched by an unassigned custom-controlled relay) available at many places
---
Possible other options - Jap fuel injector connectors
The fuel injectors on all the Japanese cars that I've done are never the Bosch type. I have to peel back the insulation, splice the rounded injector connectors on, and piece it all back together.
0 injector option was added earlier
JAP-I4 would be nice (4 inj with JAP connectors)
---
Other
some high quality shrink sleeve with the harness is one way to help install
some Tesa tape is available as extra item. Unfortunately there are no small rolls to send with every v3harness (the big rolls are too big for minor fixups).
the harness side should be shorter, and all wires with no connectors on them should be made longer. No use having all the connector wires too long and some of the ones without connectors too short!
---
V3 harness QA checklist
check the yellow inner piece of the male connector (it helps align the pins in the connector)
...
---
Needed Wiring Diagrams (all are explained, but schematics ain't hurt)
dummy (dwell controlled by GenBoard) ignition
directly controlled wasted spark not via EDIS
EdisIgnition (already explained to details).
Note that injection wiring is independent from ignition, so if you list 4 ignition types and 2 injection, it does not make sense to convolute them (make 2*4 drawing).
We do not want to promote batch injection (it only has disadvantages, many small ones that one can live with, but why?). Otherwise the wiring schematic for batch injection is trivial. Enough to show sequential wiring.
---
Vw corrado Wiring Diagram.
This diagram can be used to a lot of German cars [Wiring Diagram]
You can get the source code CDR file here with all the images
http://www.au2stereo.dk/audi/diagram_vems.cdr
---
[[Manual: Basics.Install.Mechanic]]
---
Program to create wiring diagrams
Corel Draw 11 was used originally: [zipped .cdr file].
[Circad98] was used by the professional partner

this is the free win32 version (somewhat limited, eg NO export capability ... but print to pdf via pdf995.com free pdf printer)
---
[[Manual: Basics.Install.Mechanic]]
---
The schematic an early harness was made from (several changes applied over time, and the number of extra outputs were bumped up by more than +8 by now) :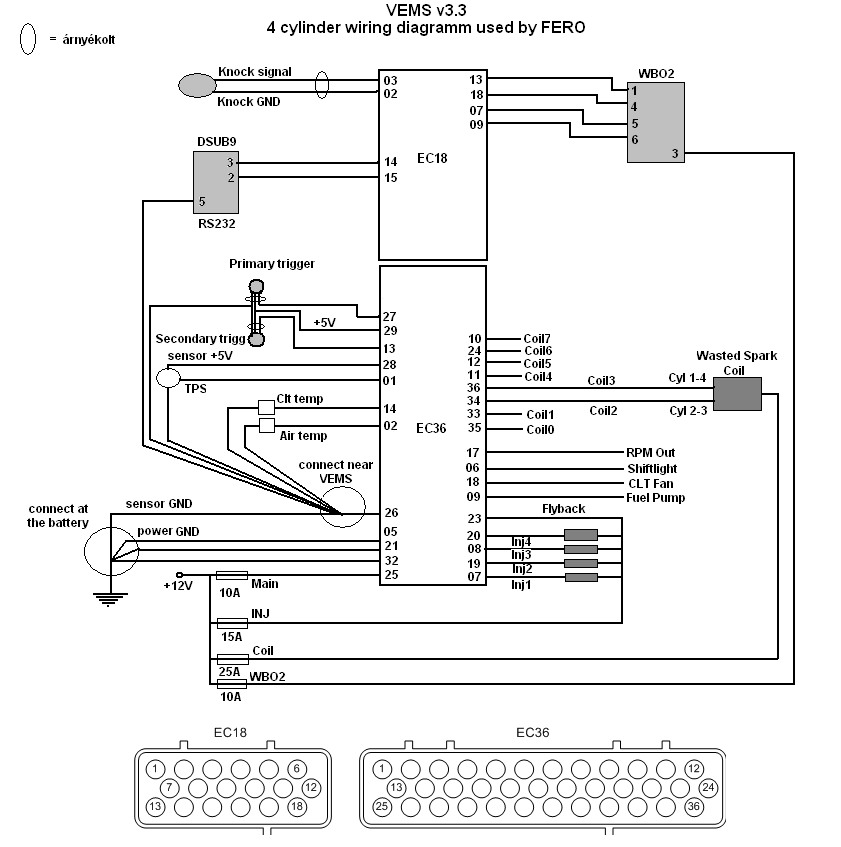 ---
Back to GenBoard/Manual