ChryslerHemi
Chrysler Hemi Trigger
Since fw 1.2.17 also supported with camsync
In (new) VemsTune, from the primary trigger dialog, choose the Chrysler Hemi configlet (with camsync or without)

preferrably after config from a similar (eg 8 cyl) engine is uploaded

Original implementation (2012-03-28 in 1.1.99) was without camsync
The pattern might NOT appear in the "trigger visual" in VemsTune

even if configured to this "number of teeth on wheel"=32 and 8 cyl
For this trigger, neglect any settings proposed by the "trigger visual" dialog.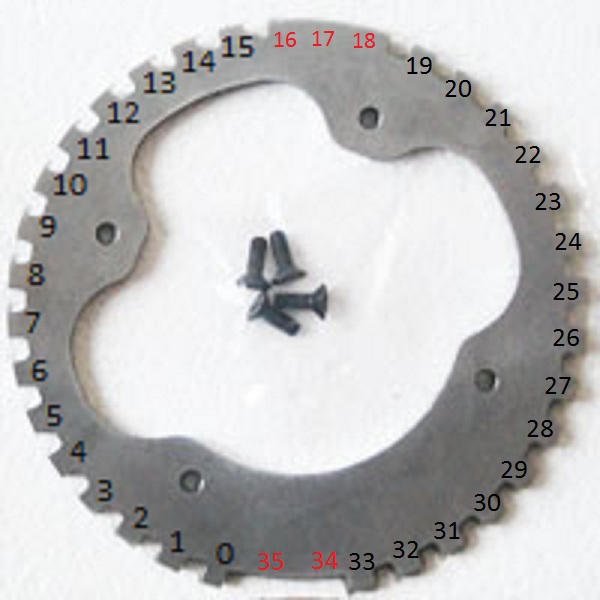 ---
Pattern (codename m324 / M324)
17 teeth, 2 missing, 15 teeth, 2 missing tooth-pattern found on a V8 Chrysler HEMI engine, works perfect (thanks to Emil Larsson).
Note:
choose the primary trigger edge, so that in the triggerlog, a block of 17 teeth is followed by a block of 15 teeth

if the wrong edge is chosen, blocks of 16 appear (not good !)

with some trick and camsync, it might (?) be possible to get that configured also (as N-2 missing-tooth trigger with wasted spark - but only supported with the correct setting: 17 / 15 teeth)
---
Example (first spark after ~1 camrot):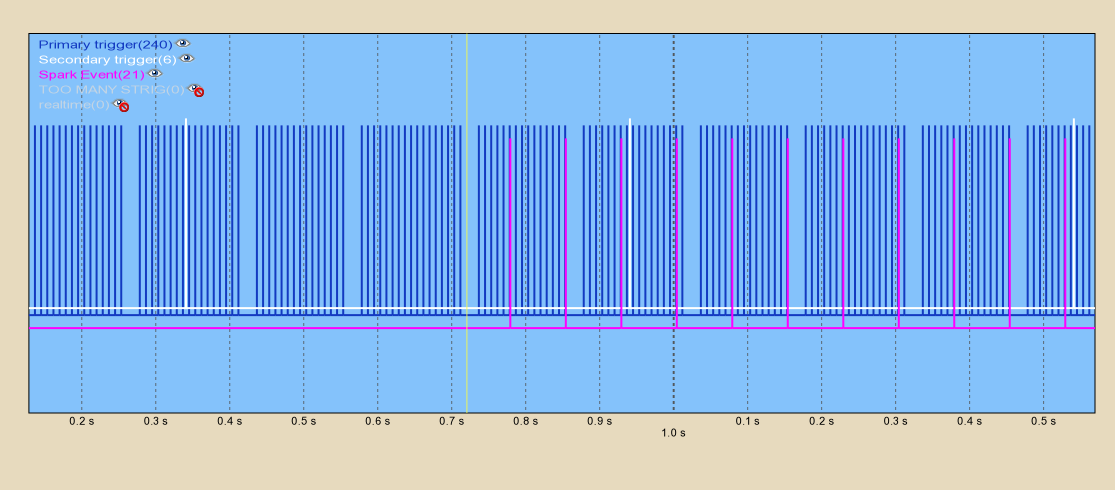 ---
Need help to sync Dodge Dakota V8 - a "High-Output" version of the 4.7 L PowerTech? engine y. 2007.
here is triggerlog: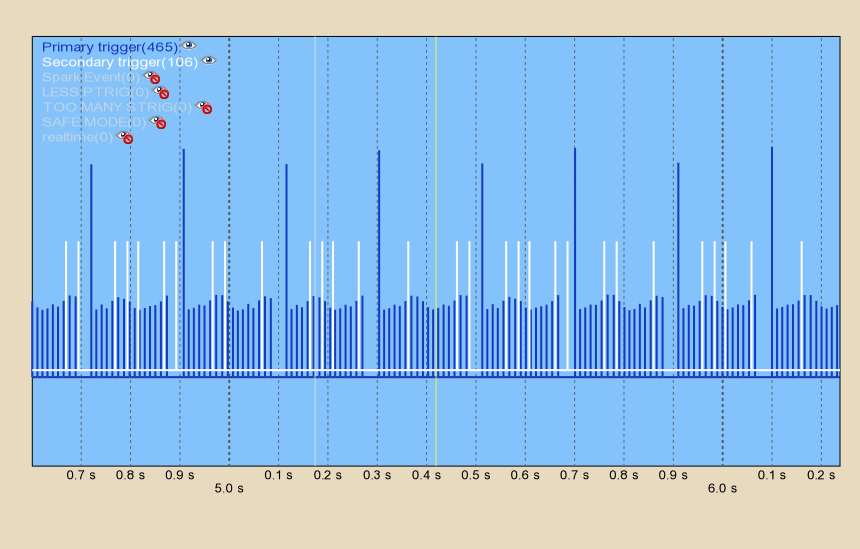 http://www.vems.hu/files/GintsK/Chrysler/v3.3_u008395-2013-12-18-19.45.29.triggerlog
I did not find how to sync it properly. Engines fires-up in 50% cases and shows too many sec trigger error all the time. 1.2.17 Secondary trigger is set to "rising", but seems it wouldn't change the signal timing significantly: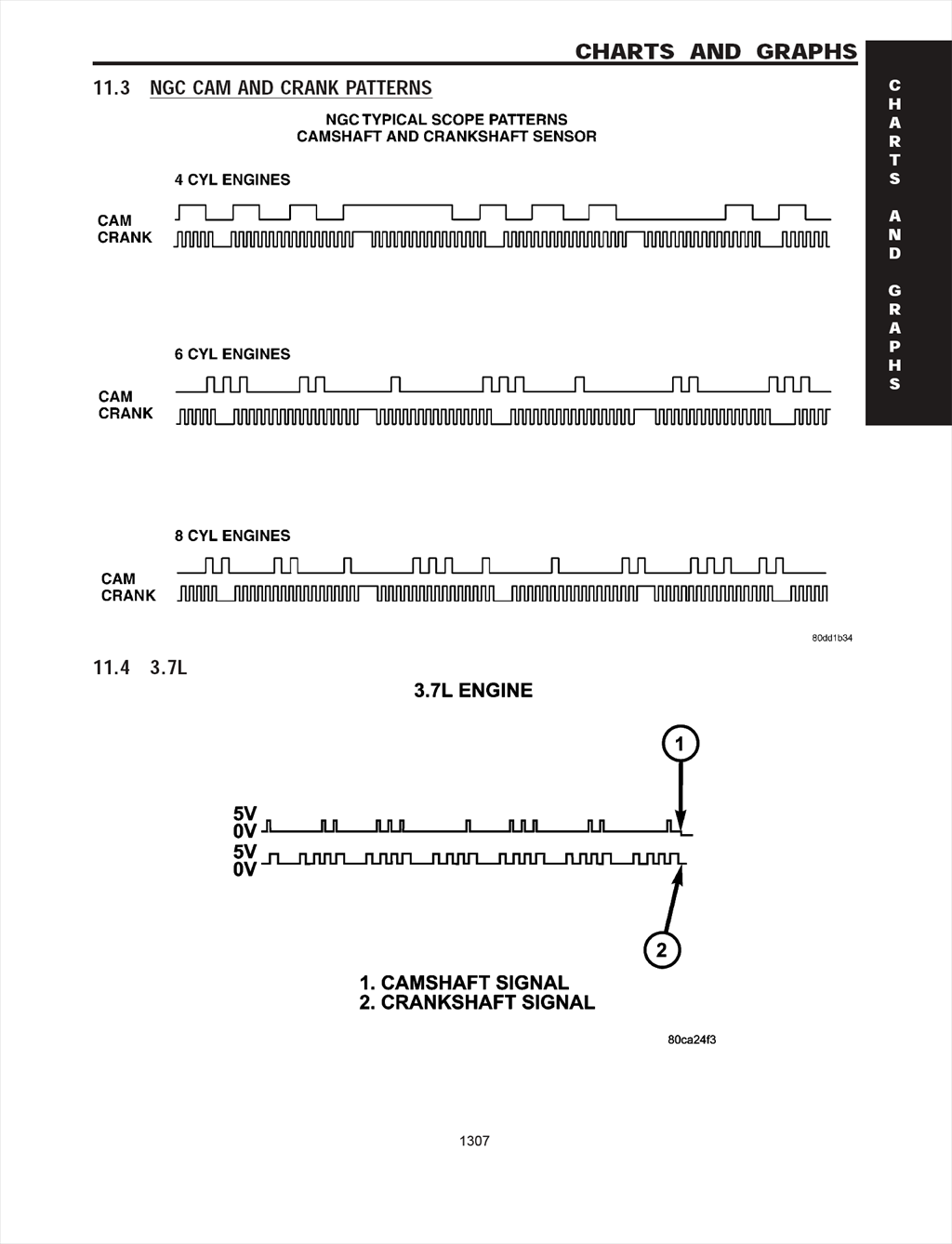 A: This primary trigger is supported by HEMI trigger, the secondary trigger pattern is not, is it possible to reduce secondary to one pulse per cam rotation ? - DB
Just theoretically. In praxis it is single cam pushrod engine and access to cam wheel requires lot of work. Existing filtering options aren't applicable, like "secignore"? - GintsK?